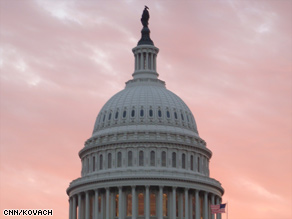 WASHINGTON/POLITICAL
For the latest political news: www.CNNPolitics.com.
CNN: Obama names deputy Treasury chief, 2 others
President Barack Obama has named one of his economics advisers to the No. 2 post at the Treasury Department and will keep a Bush administration appointee in another top job, the White House announced Monday.
CNN: Yellin: Geithner faces a tough room
Slouching alone at the head table before a room of business reporters today, Treasury Secretary Tim Geithner looked like an overgrown prep school student facing the expulsion board. It wasn't what he said, but his demeanor as he said it.
CNN: Obama highlights need for more clean-energy funding
President Obama turned his attention to the need for more clean-energy funding Monday, arguing that an expanded investment is needed to lay the foundation for long-term economic growth, cut dependence on foreign oil and slow the process of global warming.
CNN: Borger: Obama hires face 'vetting hell'
Tim Geithner may be the latest political piñata in Washington these days, but - policy aside - there may be another reason he is the one fellow everyone is picking on at Treasury: He's there alone.
CNN: Meghan McCain: 'I support the president'
Meghan McCain, a contributor to TheDailyBeast.com, is the daughter of Sen. John McCain and Cindy McCain. But it's her recent verbal sparring with conservative Republicans that's put her in the spotlight.
Washington Post: U.S. Seeks Expanded Power to Seize Firms
The Obama administration is considering asking Congress to give the Treasury secretary unprecedented powers to initiate the seizure of non-bank financial companies, such as large insurers, investment firms and hedge funds, whose collapse would damage the broader economy, according to an administration document.
WSJ: Bill Would Limit Corporate Campaign Fund Raising
Democratic leaders, riding public sentiment against corporate influence in Washington, will attempt to rein in the role of corporations and lobbyists in fund raising for congressional elections.
LA Times: On economic matters, Obama lacks a secretary of Selling It
The first time Treasury Secretary Timothy F. Geithner was sent out as point man to sell the Obama administration's financial rescue plan, the Dow Jones industrial average plunged 382 points. And Geithner's subsequent efforts as a center-stage spokesman were less than resounding successes.
CS Monitor: Was 'Hillary: The Movie' wrongly censored?
The US Supreme Court takes up a closely watched case on Tuesday examining when a documentary film may violate election law and become an illegal form of campaign advocacy.
NYT: New York Democrats Say Power Vacuum Threatens Party Candidates
With major elections approaching over the next 18 months, leading New York Democrats are expressing deep concerns that the party has been thrown into turmoil by competing personal agendas, ideological rifts and a leadership void.
Washington Post: Census Bureau Will Try an Ad Campaign To Reach Minorities
Amid fears that millions of people may be overlooked during next year's census, the Census Bureau will launch a $250 million promotional campaign to encourage participation in the decennial head count, especially among hard-to-reach minority groups in urban areas.
LA Times: Pelosi's role diminishes under Obama
After decades scaling the Democratic Party ranks, Nancy Pelosi reached a pinnacle in January 2007, becoming the first woman speaker of the House.
WSJ: Obama Walks Religious Tightrope Spanning Faithful, Nonbelievers
In the early days of his administration, President Barack Obama has developed an unusual pattern as he talks about religion: He regularly puts nonbelievers on the same footing as religious Americans.
Boston Globe: Scientists excited by the prospect of stimulus spending
In a down economy, science is up.
Washington Post: Report Cites Planning, Crowd Size in Ticket Mess
A report released by a congressional committee yesterday found that "flaws and shortcomings in the planning process" contributed to chaotic conditions around the U.S. Capitol for people trying to attend President Obama's inauguration in January.
Washington Post: Community Policing Defines Nominee to Lead Drug Office
Ten months after R. Gil Kerlikowske became Seattle's police chief, two of his officers arrived at the home of JoAnna McKee, where she ran a co-op giving medical marijuana to patients and teaching them to grow their own. Neighbors, the police told her, had been complaining. Soon, a "cease and desist" order was tacked to her door.
WSJ: San Francisco Mayor Starts Statewide Bid
Voters haven't put a Northern California politician in the governor's office in 47 years, which helps explain why San Francisco Mayor Gavin Newsom has already begun campaigning - 20 months before the election.
Jersualem Post: Poll: Majority of US Jews back Obama's active ME engagement
A new J Street poll finds that large majorities of American Jews support US President Barack Obama's active engagement in the Israeli-Palestinian conflict, even if that means exerting pressure and publicly disagreeing with Israel.
NATIONAL/INTERNATIONAL
For the latest national and international news: www.CNN.com.
CNN: U.N. report condemns Israel for Gaza operation
Israeli soldiers routinely and intentionally put children in harm's way during their 22-day offensive against the Palestinians in Gaza, according to a United Nations report made public Monday.
CNN: Report: S. Korea, EU reach tentative deal
South Korean and European Union trade officials reached a tentative free-trade accord and will seek to finalize the deal in early April, Yonhap news agency cited chief negotiators from both sides as saying Tuesday.
CNN: Vermont Senate votes to legalize same-sex marriage
The Vermont Senate voted overwhelmingly Monday to legalize same-sex marriage, potentially setting the stage for a high-profile legislative showdown and breaking a new political barrier in the state that made history in 2000 by becoming the first to approve civil unions for gay and lesbian couples.
CNN: Gergen: Will the Geithner plan work?
In a famous exchange in Shakespeare's play, Henry IV, Part 1, two characters by the name of Glendower and Hotspur are jesting over how to persuade others to follow them. Glendower says, "I can call spirits from the vasty deep," to which Hotspur responds, "why yes, so can I and so can any man, but when you call them, will they come?"
NYT: A Quandary in Sweden: Criminals in Med School
A year ago, Sweden's most prestigious medical school found itself in an international uproar after it unknowingly admitted a student who was a Nazi sympathizer and a convicted murderer, then scrambled to find a way to expel him.
London Times: UN accuses Israeli troops of Gaza human rights abuses
A United Nations report accused Israeli troops yesterday of using a Palestinian child as a human shield during fighting in Gaza, shooting Palestinian children, bulldozing a house with a woman and child inside and shelling a building they had ordered civilians to enter a day earlier.
BBC: France offers nuclear test money
France is to compensate people who suffered health problems as a result of three decades of nuclear weapons tests, its government says.
Chicago Tribune: Mexico the new dental destination
The sales pitches start just a few steps after you cross the border into Mexico. They come in the same half-whispers familiar to tourists who have been offered time-shares and T-shirts. "Excuse me, sir," a Mexican man politely asks in accented English. "Are you looking for a good dentist?" "Got one," a silver-haired American says, not even breaking stride.
LA Times: Oakland police shootings stoke criticism of parole oversight
Lovelle Mixon spent much of the last decade cycling in and out of state prison. His last stint ended in November, when he was released on parole.
NYT: Contraception Pill Strictures Are Eased by a Judge
A federal judge ordered the Food and Drug Administration on Monday to make the Plan B morning-after birth control pill available without prescription to women as young as 17.
Chicago Tribune: Transit security: CTA says it's on slow train for terrorist alerts
The Chicago Transit Authority is waiting for the necessary federal approvals to receive highly sensitive security information, including tips about potential acts of terrorism being planned against elevated or subway trains, officials told a congressional hearing Monday.
NYT: Environmentalists in a Clash of Goals
As David Myers scans the rocky slopes of this desert canyon, looking vainly past clumps of brittlebush for bighorn sheep, he imagines an enemy advancing across the crags.
U.S. report ties human risk to climate change
The Environmental Protection Agency has moved to declare that greenhouse gases are pollutants that pose a danger to the public's health and welfare. That determination, when it is made final, will pave the way for federal regulation of carbon dioxide, methane and other heat-trapping gases linked to global warming.
Business Week: Asking for Student Loan Forgiveness
In just two short months, Robert Applebaum has become something of a spokesman for a generation of people burdened with student loan debt. Applebaum, a 35-year-old attorney in New York, started a Facebook group in January called "Cancel Student Loan Debt to Stimulate the Economy," fed up with news reports about bank executives spending millions to redecorate their offices and receiving hefty bonuses. "I wanted to rant, so instead of sending an e-mail to a couple of my friends, I decided to start a Facebook group," says Applebaum, who finished law school owing $80,000 in student loans. "I figured maybe just a few of my friends would join."
NYT: Oversaving, a Burden for Our Times
We interrupt this recession to bring you news of another crisis that is much more pleasant to deal with. Now that shoppers have sworn off credit cards, we're risking an epidemic of a hitherto neglected affliction: saver's remorse.
NYT: Display of Names at Trade Center Memorial Is a Painstaking Process
Each name, slightly more than one-and-a-half inches tall, will carry the most intimate memories. All 2,982 names together, arrayed atop parapets stretching more than 1,500 feet around two great pools, will convey the vastness of the loss.
USA Today: Neb. town considers turning defunct electric chair into tourist attraction
Residents of a small southwest Nebraska town have a question for state officials: You're not doing anything with that old electric chair, are you?
BUSINESS
For the latest business news: www.CNNMoney.com.
CNN: 15 of 20 top AIG bonus recipients return cash
Executives at American International Group have started giving back their bonus cash in full, according to New York Attorney General Andrew Cuomo.
CNN: Senate Democrats suddenly slow drive to tax AIG bonuses
The populist wave that swept Capitol Hill last week against controversial bonuses paid to AIG executives stalled Monday after the White House and several key senators raised concerns about legislation to heavily tax the bonus payments.
London Times: China challenges power of the dollar as it flexes its economic muscles
China yesterday threw down a challenge to America's 50-year dominance of the global economy as it proposed replacing the dollar as the world's main reserve currency with a new global system under the control of the International Monetary Fund.
NYT: Rescue Plan, With Some Fine Print, Dazzles Wall Street
This time President Obama directed some of the stagecraft. This time Treasury Secretary Timothy F. Geithner fleshed out the substance of their long-anticipated program to remove banks' toxic assets and revive the financial system. And this time the reaction was widely positive, giving the embattled Mr. Geithner a critically needed boost.
Bloomberg: Defaulting Commercial Properties Hit Banks on Vacancy-Rate Rise
U.S. banks, battered by record losses from the worst housing slump since the Great Depression, now must weather increasing loan delinquencies from owners of skyscrapers and shopping malls.
BBC: Global trade 'will shrink by 9%'
Global trade flows are set to shrink by 9% during 2009, according to a forecast by the World Trade Organization (WTO).
Financial Times: The threat posed by ballooning Federal reserves
An explosion of money is the main reason, but not the only one, to be concerned about last week's surprise decision by the Federal Reserve to increase sharply its holdings of mortgage backed securities and to start purchasing longer term Treasury securities.
WSJ: Why College Towns Are Looking Smart
Looking for a job? Try a college town.
Bloomberg: Hedge-Fund Investors Hire Private Eyes to Avoid New Madoffs
Randy Shain said he wasn't stunned when hedge-fund managers Paul Greenwood and Stephen Walsh were arrested last month for allegedly misappropriating $554 million in client funds.
Sidney Morning Herald: ANZ sheds call centre jobs
ANZ Bank will shift 100 call centre jobs to New Zealand in its latest move to save money by hiring lower-cost overseas staff.
In Case You Missed It
To watch the latest interviews and reporting: http://www.cnn.com/video.
CNN's Anderson Cooper and his panel dig deep at the President's bank bailout plan.
CNN: Meghan McCain new voice of GOP?
CNN's Larry King talks to Meghan McCain about her role in the GOP, the President and her relationship with her parents.
President Obama's teleprompter dependency prompts it to "talk." CNN's Jeanne Moos channels the First Teleprompter.
American business icons are struggling. But is this a bad thing for America? CNN's Maggie Lake reports.