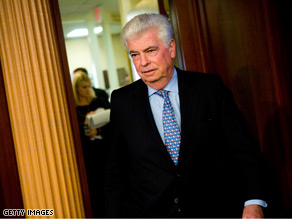 Dodd may face a tough fight to keep his Senate seat in 2010.
WASHINGTON (CNN) – Another Republican has officially jumped into the race to challenge Connecticut Sen. Chris Dodd in 2010.
State Sen. Sam Caligiuri is the second Republican to officially announce a bid to run against the embattled Dodd, who has come under fire over his admission that he added a loophole into the stimulus package that allowed AIG and other companies that received bailout money to pay millions of dollars in bonuses to their employees.
"I am running to take us into the future and away from what Washington has come to represent: career politicians in power for so long, and with so little accountability, that they feel they can do – or fail to do – anything they want and still get elected," Caliguiri said in a statement released Tuesday. "Regardless of who my opponent may be, I am committed to changing Washington in ways that career politicians are simply unable to do."
Former Rep. Rob Simmons, a Republican, announced his decision to run for the Senate earlier this month. As of now, Dodd does not have any official Democratic challengers.
Recent polling shows that the incumbent may be in for a tough fight. The latest Quinnipiac University poll released March 10 shows Simmons getting 43 percent of the vote, with Dodd at 42 percent. According to the same poll, Dodd would beat Caliguiri 47 percent to 34 percent.