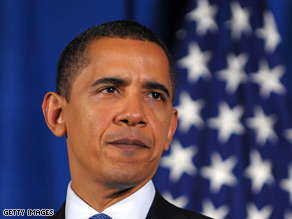 This is not the first time the president has weighed in on the campaign.
WASHINGTON (CNN) - President Obama sent supporters a last-minute pitch Monday night to boost turnout in today's special congressional election in New York's 20th congressional district.
In an e-mail sent out via the Democratic National Committee's Organizing For America grassroots effort, the president urged the party's voters to head to the polls to vote for venture capitalist Scott Murphy. "I need you to go vote...It's going to be a very close race, and your vote could make all the difference," he wrote. Historically, turnout in such special contests is very low.
This is not the first time the president has weighed in on the campaign. Last week, his endorsement of Murphy was touted in a DNC-funded television ad in the district. Murphy is running against Republican Jim Tedisco in the election to fill the seat left vacant when Democrat Kirsten Gillibrand was appointed to fill the Senate seat vacated by Hillary Clinton.
In his Monday e-mail message, the president linked a Murphy victory to passage of the administration's agenda. "With Scott in Congress, we'll work together to bring about solutions to our economic challenges and create new jobs in Upstate New York and across the country."
Tedisco has looked to make Murphy's support for the president's stimulus plan a major issue in the closing days of the campaign - and Republicans, sensing a chance to gain back a seat that has traditionally been in GOP hands and take some momentum from the president, have poured resources into the New York assemblyman's candidacy.