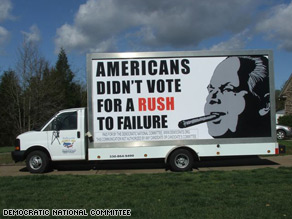 The DNC's traveling billboard makes its first appearance Tuesday in West Palm Beach, FL.
(CNN) – The Democratic National Committee's anti-Rush Limbaugh billboard makes its debut in West Palm Beach, FL Tuesday morning, the town adjacent to the conservative talk show host's neighborhood of Palm Beach.
"Americans Didn't Vote for a Rush to Failure" was the winning slogan in a DNC contest last month that followed Limbaugh's statement that he hoped President Obama would fail.