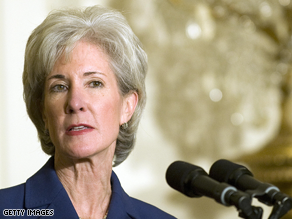 Sebelius is Obama's nominee for Health and Human Services Secretary.
WASHINGTON (CNN) - Kansas Gov. Kathleen Sebelius opened her Senate confirmation hearing for health and human services secretary Tuesday by pledging swift action on the burgeoning U.S. health-care crisis.
"We face a health system that burdens families, businesses, and government budgets with sky-rocketing costs. Action is not a choice. It is a necessity," she told members of the Senate Committee on Health, Education, Labor and Pensions.
Sebelius' hearing was chaired by Sen. Ted Kennedy, D-Massachusetts, who has made few public appearances since being diagnosed last year with malignant glioma, an often-lethal type of brain tumor.
"Over the past 10 months, I've seen our health-care system up close. I've benefited from the best of medicine," Kennedy said. "But we have too many uninsured Americans. We have sickness care and not health care. We have too much bureaucracy. ... Costs are out of control. But today, we have an opportunity like never before to reform our health care."
Former Senate Republican leader Bob Dole, also from Kansas, testified on Sebelius' behalf, arguing that her record as governor had proven her ability to work in a bipartisan manner.
"Sebelius' strength is that she understands health care (and is) willing and able ... to bring parties together in very critical areas," he said.
Sebelius, 60, is the daughter of former Ohio Gov. John Gilligan, who led that state from 1971 to 1975. A two-term Democratic governor in a Republican-leaning state, she previously served as a state insurance commissioner and oversaw Kansas' Medicaid program. She has been credited with boosting health-care assistance for the poor during her tenure.
A number of leading social conservatives have criticized Sebelius for her record on abortion, citing, among other things, her veto as governor of legislation that would have tightened abortion regulations in Kansas.
In vetoing the measure last April, Sebelius wrote that the bill was problematic because it included no exceptions for pregnancies that endanger a woman's life and it allowed individuals to seek court orders preventing a woman from obtaining an abortion, even if the procedure was necessary to save her life.
Catholic League President Bill Donohue recently called Sebelius an "enemy of the unborn." He said her nomination is particularly disturbing because the health and human services secretary is one of the few members of the administration who can directly affect abortion policy.
"Sebelius' support for abortion is so far off the charts that she has been publicly criticized by the last three archbishops of Kansas City," Donohue said in a written statement.
The liberal group Catholics United has come to Sebelius' defense, saying the Kansas governor has taken several steps to lower the abortion rate in her state. The group also has posted excerpts of a 2006 speech in which Sebelius said she opposed abortion.
"My Catholic faith teaches me that all life is sacred, and personally I believe abortion is wrong," she said then. "However, I disagree with the suggestion that criminalizing women and their doctors is an effective means of achieving the goal of reducing the number of abortions in our nation."
Another lightning rod for Sebelius is the attendance by Dr. George Tiller and his staff at a 2007 reception she held at the governor's mansion in Topeka. The doctor, who specializes in late-term abortions and once received the National Abortion Federation's highest honor, bought the right to attend the reception in a charity auction held for the Greater Kansas City Women's Political Caucus, according to the Topeka Capital-Journal.
Tiller is presently facing charges relating to his practice. Last month, a district judge denied a motion to dismiss the case, meaning Tiller will go to trial on 19 misdemeanor counts relating to how he procured second opinions for late-term abortions, according to The Wichita Eagle.
If confirmed by the Senate, Sebelius would take office as the Obama administration begins promoting an aggressive agenda for health-care reform.
Former Sen. Tom Daschle of South Dakota - President Barack Obama's first choice for secretary of health and human services - withdrew on February 3 after controversy erupted over his tax records and over his work in a field that some consider lobbying.