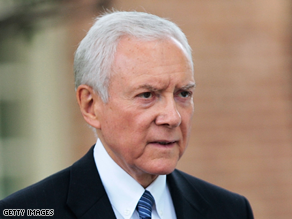 Hatch says Stevens got 'screwed.'
(CNN) - Utah Sen. Orrin Hatch said Wednesday his friend and former colleague Ted Stevens was "screwed" by the United States Justice Department, hours after Attorney General Eric Holder announced he was dropping all charges against the former Alaska senator.
"Here's a guy who gave better than 60 years service to the country and was screwed," Hatch told reporters on Capitol Hill. "Screwed by our own Justice Department."
Hatch went on to praise Holder for dropping the charges and "fixing this foul situation."
"I am really impressed with the attorney general for standing up and fixing this foul situation. Ted Stevens had a good answer for every accusation they threw at him.
Related: Lawyer says prosecutors' request has 'cleared' Stevens
"I have every confidence in the attorney general. I think he's more than shown integrity and decency in this matter and it's not an easy thing for him to do that," Hatch said. "He has, in looking at it, realized now what people like myself have been saying is 100 percent right."
Prosecutors accused Stevens of failing to disclose hundreds of thousands of dollars of "freebies" from an oilfield services company on Senate ethics forms. But in December, an unnamed FBI whistle-blower accused prosecutors of withholding evidence from the defense. On Wednesday, and the Justice Department asked a judge to dismiss the charges against Stevens.
Stevens, 85, lost his bid for a seventh full term in November after his conviction on seven counts of lying on Senate ethics forms. Stevens' lawyer, Brendan Sullivan, said the Justice Department was forced to request the dismissal because of "extraordinary evidence of government corruption."
- CNN's Ted Barrett contributed to this report