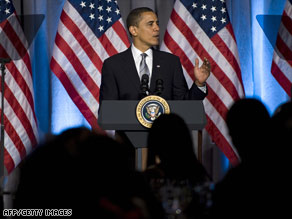 President Obama is in Europe, but his supporters are on Capitol Hill.
WASHINGTON (CNN) - A brigade of President Obama's loyal followers are blitzing Capitol Hill on Wednesday to shore up support for his budget.
More than 200 volunteers enlisted by a special project of the Democratic National Committee fanned out across the Capitol to deliver hundreds of thousands of pledges of support for the president's agenda to Republican and Democratic members of Congress.
The effort is the culmination of an organized push by the Obama administration to leverage their muscular campaign organization to back the president's budget initiatives - in this case, his plans to invest in health care, education and energy.
The roughly 642,000 pledges were gathered during a two-week push by Organizing for America, the Obama administration's political apparatus housed at the DNC. The group picked up 100,000 signatures from neighborhoods around the country during a series of canvasses, and tapped into their robust e-mail list to sign up hundreds of thousands more.
OFA director Mitch Stewart called the stacks of pledges "a down payment on this agenda of change that we all fought so hard for over the last two years."
The delivery of the signatures to members of the Senate and House, he said, will let them "know that they have support for the president's agenda in their congressional district or in their state."
Critics have questioned whether a policy-oriented grassroots canvass would generate the same kind of enthusiasm that helped drive the Obama campaign to victory last November. But Stewart, formerly one of the campaign's top organizers, said the effort "exceeded expectations."
"We want folks on Main Street talking about issues that are happening in Washington, and that's what we're going to try to facilitate," he told CNN. "For the first time, I think ever, people on Main Street on front porches were actually discussing the budget which to my knowledge has never happened before."
A Senate Republican leadership aide downplayed the success of the endeavor.
"These guys had e-mails go out to 13 million screaming fans, a week of fawning press coverage leading up to their event, the president did a web video, they had paid TV and radio ads, they had the organizing videos on how to train people how to go knock on doors," the aide said. "And more people signed up to judge the questions at White House online town hall than signed up for this."
Since it was folded into the DNC in January, political observers have wondered just how Obama plans use his massive campaign operation to carry out White House objectives. But Stewart wouldn't offer details on what OFA will do once the budget push wraps up. "Each legislative issue will dictate what we do tactically," he said.