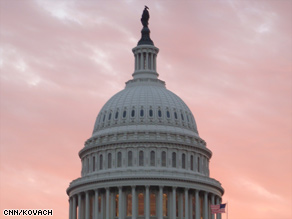 WASHINGTON/POLITICAL
For the latest political news: www.CNNPolitics.com.
CNN: Obama meets British PM ahead of G-20
U.S. President Barack Obama and first lady Michelle Obama arrived Wednesday at the British prime minister's residence for a morning meeting ahead of the G-20 summit.
CNN: Sebelius reveals she owed back taxes
Kathleen Sebelius revealed Tuesday that she recently paid nearly $8,000 in back taxes and interest, becoming the sixth Obama nominee to have tax issues.
CNN: N.Y. House Race not yet decided
The special election for an empty Congressional seat in upstate New York has now turned into a dead heat with only a few votes separating the candidates on Tuesday night.
CNN: Analysis: U.S. takes 'reach-out' approach to Afghan summit
When President Obama meets the leaders of NATO countries in Strasbourg, France, on Thursday, the gathering will be large on pomp and circumstance to celebrate NATO's 60th anniversary and short on substance on the major challenge facing the alliance: how to stabilize Afghanistan.
CNN: Senate Dems move closer to controversial budget procedure
In a sign that Senate Democrats may be close to adopting a special budget procedure to speed passage of President Obama's health care and global warming legislation, a key Democratic senator said Tuesday that he is not ruling out using the controversial method of "reconciliation."
CNN: Palin replaced as headliner for Republican dinner
Sarah Palin will no longer headline a major Republican dinner in June, a Republican official told CNN Tuesday.
Washington Post Op-Ed: Sarkozy: Priority 1: World Growth
Tomorrow, for the second time in only five months, the leaders of the world's top 20 economies will meet to seek a joint response to the unprecedented global economic crisis.
WSJ: Bill Expands Volunteer Opportunities
A Senate bill to overhaul the federal infrastructure for volunteering and to significantly increase the number of volunteers passed the House, and is expected to be signed by President Obama in the coming weeks.
Financial Times: SEC to enlist help on fraud
Mary Schapiro, the new chairman of the US Securities and Exchange Commission, is looking at addressing the agency's limited resources by enlisting more private sector help to uncover fraud. Ms Schapiro, who took over the beleaguered regulator two months ago, said she was exploring new approaches to enforcement, including ways to "leverage" third parties, particularly in the oversight of investment advisers.
Newsweek Op-Ed: Granholm: Electric (Motor) City
In the 20th century, the road to the American Dream began in Michigan. Our state not only put the nation on wheels, but well-paying jobs in the auto industry helped create the broad middle-class prosperity that made our nation the envy of the world.
CS Monitor: House fast-tracks major changes on energy and climate
Congressional Democrats have launched a bid to shift the United States into greener energy technologies, while protecting US consumers and jobs during a difficult transition.
Chicago Tribune Op-Ed: Page: Obama gets hazy on reefer economics
For all of the keen intellect that President Barack Obama showed in his online town hall meeting, he didn't seem to know much about reefer economics.
Washington Post: A Split At Justice On D.C. Vote Bill
Justice Department lawyers concluded in an unpublished opinion earlier this year that the historic D.C. voting rights bill pending in Congress is unconstitutional, according to sources briefed on the issue. But Attorney General Eric H. Holder Jr., who supports the measure, ordered up a second opinion from other lawyers in his department and determined that the legislation would pass muster.
Washington Post Op-Ed: Sen. Gregg: A Budget To Beggar Us
When speaking with the hardworking New Hampshire families and business owners whom I represent in Washington, I hear the same concerns echoed by Americans across the country. People are worried about keeping their jobs, their homes and their savings safe. They ask, "When will the economy recover? What kind of economic future will our children have?"
WSJ Op-Ed: Rep. Ryan: The GOP's Alternative Budget
Today, the House of Representatives will consider two budget plans that represent dramatically different visions for our nation's future.
NATIONAL/INTERNATIONAL
For the latest national and international news: www.CNN.com.
CNN:April Fools' may be no joke for computer users
Computer experts waited early Wednesday to see what impact - if any - the worm known as Conficker.c will have on the world's computers.
CNN: London braces for 'unprecedented' G-20 protests
London prepared for what police warned could be "unprecedented" mass protests by anti-capitalist and climate change campaigners ahead of the start of Thursday's G-20 economic summit.
CNN: Sarkozy pushes for summit with concrete results
French President Nicolas Sarkozy said Wednesday he is not satisfied with parts of the draft conclusions for the G-20 summit and may even leave if the results are "less than concrete."
CNN: Suspected drone attacks kills 8 in Pakistan
A suspected U.S. missile strike killed eight people in in the violence-plagued tribal region in northwestern Pakistan Wednesday, a local political official said.
On April 1, the recession in the U.S. will enter its 17th month, making it official: This is now the longest economic downturn since the Great Depression, longer than the 16-month pullbacks of 1981-1982 and 1973-1975.
Washington Post: Recession Has Silver Lining for Class of '09
Many private colleges have admitted more students than usual this year, hedging their bets as they wait to find out whether families find higher tuitions difficult to manage in the recession.
LA Times: U.S. home prices show record drop in January
U.S. home prices continued to fall at a record pace in January, according to a leading national index released Tuesday. The Standard & Poor's/Case-Shiller index of home prices in 20 metropolitan areas showed a 19% drop from the same month a year ago, the largest decline on record for a January.
US News & World Report: 6 Ways to Get Free Cash for College
It sounds like just a new twist on the all-too common Nigerian scams or Madoff-style Wall Street bait-and-switch. But it's true: Some states, businesses, and colleges are really handing out free cash to help build up parents' college savings accounts.
CS Monitor: On divisive issue of gay clergy, two churches weigh softer stance
Two mainline Protestant denominations, after decades of wrestling over the place of homosexuality in the church, are considering allowing local congregations to select pastors who are in long-term, monogamous, same-gender relationships.
NYT: Militants Show New Boldness in Cities of Iraq
As the American military prepares to withdraw from Iraqi cities, Iraqi and American security officials say that jihadi and Baath militants are rejoining the fight in areas that are largely quiet now, regrouping as a smaller but still lethal insurgency.
Denver Post: They'll drink to that: Utah to ease liquor laws
When it comes to tippling, Colorado's western border has long been a line of liquor demarcation.
Seattle Times: UC San Diego sends invite to rejected students
The University of California, San Diego says it accidentally sent an e-mail invitation to every student who applied for the school's incoming freshman class – including the 29,000 who had been rejected.
Baltimore Sun: Recession might be good for your health
It took a moment to make the connection, but Jake Sawyers says the recession has been good for him, or at least for his health.
NYT: U.S. and Russia to Consider Reductions of Nuclear Arsenals in Talks for New Treaty
President Obama plans to open negotiations on Wednesday to draft a new arms control treaty that could slash the American and Russian strategic nuclear arsenals by about a third and possibly lead to even deeper reductions, according to administration officials.
Jerusalem Post: 'Hamas planning military staff college'
Hamas plans to establish a staff and command school to train its military commanders ahead of a future conflict with Israel, defense officials told The Jerusalem Post on Tuesday.
BUSINESS
For the latest business news: www.CNNMoney.com.
CNN: Auto bankruptcy: What it means
In Detroit, the unthinkable - an automaker bankruptcy - has become very thinkable.
Washington Post: U.S. Plans Key Role In Naming GM Board
The Obama administration will play a key role in reshaping General Motors' board of directors over the next six months, potentially giving it even greater control in the management of the storied American manufacturer.
Forbes: GM Bankruptcy Talk Revs Up Asian Automakers
Japanese and South Korean investors bought into automakers on Wednesday, celebrating U.S. President Barack Obama's apparent willingness to let their rivals General Motors and Chrysler go into bankruptcy.
WSJ: Two Services to Sell Tickets on Cellphones
Ticketmaster Entertainment Inc. and Tickets.com Inc. are launching services to let customers buy tickets directly from their mobile phones, in an ambitious attempt to extend Internet commerce to cellphone screens.
Bloomberg: JPMorgan Takes Lead in Busiest Year for Rights Offers
JPMorgan Chase & Co. has arranged $12.8 billion of rights offers, twice as much as nearest competitor Goldman Sachs Group Inc., in Europe's busiest year for the share sales.
WSJ: AIG Board's Pay Panel Falls Under Shareholder Firm
Shareholders are taking aim at the board of American International Group Inc.
NYT: Boats Too Costly to Keep Are Littering Coastlines
Boat owners are abandoning ship.
USA Today: Stimulus-funded highway projects underway
The early federal stimulus money appears to be hitting its target, paying for new projects and creating jobs, according to a USA TODAY review of some of the first projects funded.
In Case You Missed It
To watch the latest interviews and reporting: http://www.cnn.com/video.
CNN's Richard Roth hit the streets of New York to ask 'what is the G-20?'
CNN: Larry King: Natalie's struggle
Larry talks with musician Natalie Cole about her battle with kidney failure and how she fought her drug addiction.
CNN: AC360: Popular President?
Anderson talks with his panel about the expectations of President Obama as he travels overseas to the G-20 summit.
CNN's Errol Barnett talks to the Lanc Ulanoff about protecting computers from worms.