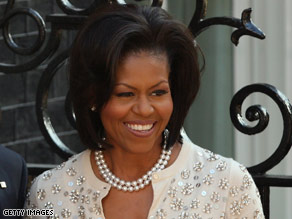 Join the conversation on Jack's blog.
First Lady Michelle Obama is even more popular than her husband, who has a hefty majority of Americans supporting him. A new Gallup poll show's the first lady's favorable rating at 72 percent compared to 69 percent for the president.
Also, Michelle Obama's unfavorable ratings are much lower than the president's — 17 percent for her versus 28 percent for him.
What a difference a year makes… On the campaign trail last winter and spring, Michelle Obama was at times considered a political liability. Some portrayed her as an "angry black woman," while others didn't like the way she talked about things like her husband's dirty socks. And many questioned Michelle's patriotism when she said she only recently became proud of her country.
To read more and contribute to the Cafferty File discussion click here