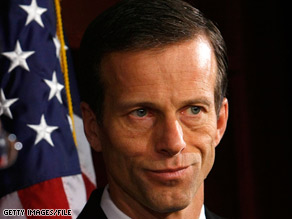 Republican John Thune, pictured in this file photo, set aside partisan differences and joined forces with Democratic lawmakers to win a charity basketball game in Washington.
WASHINGTON (CNN) - A bipartisan group of legislators set their differences aside Wednesday night and joined forces at a local high school gymnasium to narrowly defeat a team of law professors in a charity basketball game, thus making the overused political sports metaphors that usually fly so freely on Capitol Hill actually appropriate for just one fleeting, magical evening.
Sens. John Thune, R-South Dakota, and Robert Casey, D-Pennsylvania, lead their "Hill's Angels" team to a 48-42 victory over the "Hoya Lawyas," comprised of faculty and staff members from the Georgetown University Law Center.
Rep. Joe Baca, D-California, scored the game's first basket, which went unanswered by either team for the game's opening minutes. Among those with strong performances for the congressional team were Republican Rep. Jeff Flake of Arizona and Democratic Reps. Jay Inslee of Washington, Andre Carson of Indiana and Frank Kratovil of Maryland.
Mervyn Jones, son of the late Ohio congresswoman and long-time "Hill's Angels" coach Stephanie Tubbs Jones, scored a lay-up and free-throw in the game's final seconds to clinch victory for the federal lawmakers. Rep. Tubbs Jones died last August of a brain aneurysm.
The annual match-up, now in its 22nd year, was organized by Georgetown law students and raised an estimated $335,000 for the Washington Legal Clinic for the Homeless, an organization that provides legal services to homeless and low income District of Columbia residents.