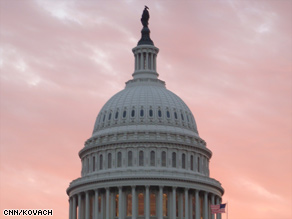 WASHINGTON/POLITICAL
For the latest political news: www.CNNPolitics.com.
CNN: Rift threatens to torpedo G-20 summit
The G-20 summit began Thursday, with leaders looking to repair a rift after France and Germany threatened to withdraw their support unless tough new rules were agreed to regulate the world's financial markets.
CNN: Romney strikes bipartisan tone at GOP fundraiser
Former Massachusetts Gov. Mitt Romney praised President Obama at a GOP fundraising dinner Wednesday in front of a crowd that might have been expecting a heavy dose of rally-the-troops conservatism.
CNN: Pakistan's commitment questioned in Senate hearing
Days after President Obama announced his strategy for security in Afghanistan, senior Defense Department leaders told a congressional panel more effort is needed to fight the growing insurgency in Pakistan and Afghanistan.
CNN: Lawyer says prosecutors' request has 'cleared' Stevens
Former Republican Sen. Ted Stevens of Alaska has been "cleared" by the Justice Department's request to dismiss his federal corruption convictions and drop all charges against him, his lawyer said Wednesday.
CNN: Senate rejects controversial fast-track budget procedure
The Senate overwhelmingly voted Wednesday not to use a fast-track budget procedure to pass President Obama's "cap and trade" plan to combat global warming.
WSJ: Report Outlines Weaknesses at Intelligence Agencies
The U.S. intelligence chief has sent conflicting messages to the agencies he supervises, and bureaucratic turf battles continue to rage among the 16 spy agencies, while his staff continues to grow without clear direction, according to an internal report released Wednesday.
Washington Post: Lugar Urges Obama to Open Talks With Cuba, Ease Restrictions
With momentum building in Congress for a change in U.S. policy toward Cuba, Sen. Richard G. Lugar called on President Obama to appoint a special envoy to initiate direct talks with the island's communist government and to end U.S. opposition to Cuba's membership in the Organization of American States.
Bloomberg: FDR Economist Says Obama Should Heed Keynes, Put Stimulus First
When John Maynard Keynes came to Washington in 1934 to persuade President Franklin Roosevelt to spend more to revive the U.S. economy, Roosevelt didn't pay the British economist much attention, Thomas Worsley recalls. He hopes President Barack Obama won't repeat Roosevelt's mistake.
WSJ Op-Ed: Rove: The President Is 'Keeping Score'
"Don't think we're not keeping score, brother." That's what President Barack Obama said to Rep. Peter DeFazio in a closed-door meeting of the House Democratic Caucus last week, according to the Associated Press.
Boston Globe: Lawyers for aunt of Obama hopeful
Lawyers for Zeituni Onyango, the Kenyan aunt of President Obama, say they will present new evidence in federal court today seeking to reverse a 2004 deportation order and allow her to stay in the United States.
WSJ Op-Ed: Hoyer: We Can't Run Deficits Forever
Congress's upcoming debate on the budget will be a vital opportunity to confront the severity of our country's fiscal condition. For years we put off a reckoning, and now our nation is constrained by trillions in debt and billions in interest payments. Democrats are tackling this problem with a budget that makes strategic investments in our future growth - especially in the areas of education, energy and health care - while cutting our deficit in half by 2013. Passing that budget this week is the prerequisite to three hard steps back to fiscal responsibility.
Chicago Tribune: Michelle Obama steals the show with fashion
Changing into an elegant black-and-white Isabel Toledo dress from springy J.Crew pieces Wednesday in London, first lady Michelle Obama showcased her versatility and officially became one of the fab four of the political fashion world in the modern era–joining Jacqueline Kennedy, French first lady Carla Bruni-Sarkozy and Princess Diana.
Washington Post: Century-Old Mystery Blooms In Grove of D.C. Cherry Trees
Gray and twisted, the 18 aged cherry trees stand by themselves, their dark trunks set off by crowns of white blossoms, which drifted to the earth yesterday in a raw wind off the Potomac River.
NATIONAL
For the latest national news: www.CNN.com.
CNN: GM's new chief optimistic that he can steer the company to health
In his first week as president and chief executive officer of General Motors, Fritz Henderson expressed optimism that he can steer the company out of the economic rut in which it has stalled.
CNN: Police investigate whether man's legs severed to fit in coffin
Police in Allendale, South Carolina, are investigating whether a funeral home fit a 6-foot, 5-inch man into his coffin by severing his legs.
NYT: Piracy Puts Film Online One Month Before Open
In a case of piracy that some analysts called unprecedented, untold thousands of people watched a version of "X-Men Origins: Wolverine" online Wednesday, a full month before its scheduled theater release.
WSJ: AIG Debacle Not My Fault, Says Greenberg; Testifies Today
As Congress presses for answers on what went wrong at American International Group Inc. and what to do next, lawmakers are turning Thursday to the man who built the small insurer into a world-wide conglomerate.
LA Times: California food stamp benefits go up 13.6%
California food stamp recipients will receive 13.6% more benefits thanks to the federal economic stimulus package, the state Department of Social Services announced Wednesday.
USA Today: Colleges are the ones fearing rejection letters
For college-bound students, it's time to make decisions — and to navigate a transformed landscape where acceptances and wait-list status might have different implications than they did just a year ago.
NYT: People in Need Are Filling and Taxing Libraries
The public library here had just closed its doors one evening in December when two homeless men who had been using the stacks as shelter from the cold got into a fight on the outside steps.
The Telegraph: Stem cells could be used to cure deafness
Early versions of the sensory hair cells and neurons essential for hearing were made from stem cells taken from the human inner ear. Scientists hope further work will lead to fully functional cells that could be used to treat total hearing loss.
USA Today: Minorities, mostly Hispanics, flock to suburban schools
Minority enrollment in suburban school districts has exploded since the early 1990s, and Hispanic students account for most of that growth, a report released Tuesday finds.
INTERNATIONAL
For the latest international news: http://edition.cnn.com/
CNN: North Korea is fueling rocket, U.S. military says
North Korea has begun fueling its long-range rocket, according to a senior U.S. military official.
CNN: N. Korea warns Japan against targeting rocket
North Korea says it will attack the Japanese military and "major targets," if Japan shoots down a rocket Pyongyang plans to launch in the coming days, North Korea's state-run news service, KCNA, reported Thursday.
CNN: U.S., Russia announce nuke talks; Obama plans to visit China
U.S. President Obama and Russian President Dmitry Medvedev announced Wednesday that their countries will soon begin negotiations on reducing their nuclear arsenals, according to a joint statement from the two leaders.
Bloomberg: Global Economic Slide May Be Easing as G-20 Gathers
Leaders of the most powerful nations meet today amid signs that the world economy is stabilizing after months of freefall. The Group of 20 summit convenes in London as some reports suggest the pace of decline is easing.
London Times: European demands threaten to wreck deal
France and Germany delivered a late threat to derail Gordon Brown's efforts to secure a global recovery deal last night by demanding new concessions from the United States on financial regulation.
Financial Times: G20 leaders accused over toxic assets
World leaders meeting at the G20 summit on Thursday must act more decisively to clean up the toxic assets poisoning the global banking system or risk prolonging the worst global recession in generations, the head of the International Monetary Fund warned on Wednesday.
Washington Post: As Mexico Battles Cartels, The Army Becomes the Law
President Felipe Calderón is rapidly escalating the Mexican army's role in the war against drug traffickers, deploying nearly 50 percent of its combat-ready troops along the U.S.-Mexico border and throughout the country, while retired army officers take command of local police forces and the military supplies civilian authorities with automatic weapons and grenades.
Financial Times: Gates criticises Europe over Afghanistan
Europe's leaders are not doing enough to convince voters of the need to win the war in Afghanistan, Robert Gates, US defence secretary, has warned on the eve of Friday's Nato summit.
Times of India: Thanks to Obama, India will now have a say in Afghanistan
President Barack Obama has ended years of "veto power" wielded by Pakistan in Afghanistan over India's active involvement in the country post-Taliban, a US expert on South Asia has said.
Jerusalem Post: Lieberman: Annapolis doesn't obligate us
It took Avigdor Lieberman less than eight hours as Foreign Minister Wednesday to reverse Israeli diplomatic policy of the last two years, saying Jerusalem was not obligated by the Annapolis process.
NYT: One Oath Leads to Another
Stephen Chi was born in Norway to Chinese immigrant parents, grew up in Sweden, received undergraduate and graduate degrees at Saginaw Valley State University in Michigan, mastered five languages and now works as an information technology consultant in New York City.
Washington Post: Military Wants More Troops for Afghan War
Gen. David H. Petraeus disclosed yesterday that American commanders have requested the deployment of an additional 10,000 U.S. troops to Afghanistan next year, but he said the request awaits a final decision by President Obama this fall.
BUSINESS
For the latest business news: www.CNNMoney.com.
CNN: Housing bust hits Manhattan
The national housing slump is finally crashing at the shores of Manhattan island, which had its worst quarter in years, according to several industry reports released on Thursday.
CNN: Warning: The bear isn't hibernating yet
March came in like a bear and out like a bull on Wall Street. But will the bull stick around or will the bear return to try and prove T.S. Eliot right about April being the cruelest month?
NYT: U.S. Said to Start UBS Tax Fraud Cases
The Justice Department has opened about 100 criminal investigations into wealthy American clients of the Swiss bank UBS, a person briefed on the matter said Wednesday.
NYT: Auto Sales for March Offer Hope
New-vehicle sales fell in March for a 17th consecutive month, but carmakers said that proposed federal incentives and reports from dealers of increased sales in the last week of the month could mean the market was bottoming out.
LA Times: Government may reward car buyers
The road to recovery for U.S. automakers could be jammed with hundreds of thousands of gas-guzzling used cars, which President Obama hopes will be traded in for more fuel-efficient vehicles - with the lure of government money.
Business Week: Geithner's Plan: Loopholes Galore
It has been a little less than two weeks since Treasury Secretary Timothy F. Geithner unveiled the details of his project to restore banks to financial health. But analysts say hedge funds and investment banks are already looking for ways to exploit the complex web of auctions, public-private partnerships, and government guarantees proposed by Treasury to cleanse banks' books of toxic assets. "It's a highly gameable system," says H. Peyton Young, an Oxford University economist and a senior fellow at the Brookings Institution in Washington. "It's very difficult to write rules that are going to prevent self-dealing behavior."
In Case You Missed It
To watch the latest interviews and reporting: http://www.cnn.com/video.
CNN: Baltimore's dumbest criminals
They came, they worked, they stole. Then, they did something stupid. WBFF's Kathleen Cairns reports.
Some 29,000 rejected college applicants mistakenly received acceptance letters. KGTV's Steve Atkinson reports.
CNN's Lou Dobbs talks to Gov. Jennifer Granholm about the state of Michigan's auto industry.
CNN: Autism treatment benefits, limits
CNN.com's Elizabeth Landau and Naamua Delaney discuss Applied Behavior Analysis and what it means for those with autism.