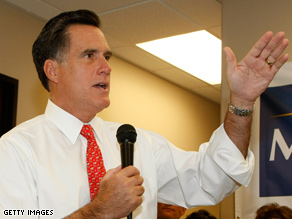 Romney is a possible 2012 contender.
WASHINGTON (CNN) - Former Massachusetts Gov. Mitt Romney is "keeping active politically," according to an aide, and on Wednesday his busy travel schedule brought him to Washington to help raise money for Senate Republicans hoping to gain leverage against President Obama in the 2010 mid-term elections.
But in a speech to a fundraising dinner for the National Republican Senatorial Committee that raised over $2 million, Romney often struck a bipartisan tone in front a crowd that might have been expecting a heavy dose of rally-the-troops conservatism.
"I also think its important for us to nod to the president when he's right," Romney said, after chiding the president's budget. "He will not always be wrong, and he's done some things I agree with."
Romney said he's pleased with the president's plans to "finish the job" in Iraq and Afghanistan – lines that drew cheers from the GOP audience - and he applauded the president for standing up to the auto industry.
"I hope he continues to be tough and shows some backbone because that industry is not going to make it unless we have real backbone and get those guys to fundamentally restructure all of their obligations," said Romney, who could challenge Obama for the presidency in 2012.
The former businessman even offered some faint praise for Treasury Secretary Tim Geithner, saying that after a series of initial missteps, "I think he's finally getting close to the right answer."
Romney, speaking without notes or teleprompter, ultimately drew a familiar line in the sand between Democrats, who he said favor heavy-handed government, and Republicans, who prefer individual freedom and free enterprise. The language was reminiscent of his campaign stump speech from 2007 and 2008.
"I think the American people are seeing through what's happening," he said. "The Democrats are trying to use this crisis as a way to advance their philosophy of the supremacy of government, and I don't think they're being fooled."
Romney claimed the president "incorrectly believes that the 2008 elections settled the great issues that divide America. I don't believe that's the case. I watched the debates. The great issues were rarely discussed at all."
Twenty-six GOP senators attended the dinner, which was held at the Newseum and set under a massive projection screen bearing the slogan: "Republican senators vow to regain majority in 2010."
Romney's former rival for the Republican presidential nomination, John McCain, was not among those attending. Even though he's up for re-election in 2010 and may need an assist from the NRSC, an aide to McCain said he was working late on his proposed alternative to the president's budget.