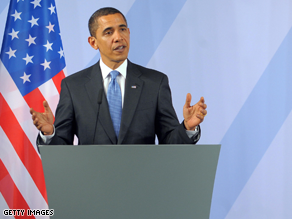 Obama is reacting to the latest jobs report.
(CNN) - President Barack Obama reacted Friday to news the economy lost 663,000 jobs last month, saying at a press conference in Germany the report is the latest evidence the economic crisis continues to take its toll.
"Over the last several days, what we have been grappling with is an economic crisis that is unlike anything we have seen since the '30s, and - just a stark reminder for those of us in the United States - our jobs report came out today, and it showed that we had lost 663,000 jobs just this month, which has pushed our unemployment rate to 8.5 percent - the highest in 25 years," he told reporters at a briefing with German Chancellor Angela Merkel.
"We have lost 5.1 million jobs since this financial crisis and recession began, so obviously, this is hitting the United States hard," he added.
The jobs report released Friday said employers trimmed 663,000 jobs from their payrolls last month, roughly in line with forecasts of a loss of 658,000 jobs, according to economists surveyed by Briefing.com.
CNN Radio: Could the jobs report affect the president politically?

For the first three months of the year, two million jobs have been lost. More than five million jobs have been lost since the start of 2008.