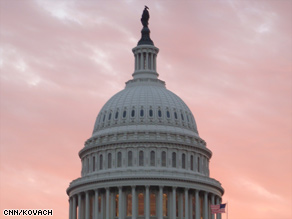 WASHINGTON/POLITICAL
For the latest political news: www.cnnpolitics.com
CNN: Senate follows House, passes Obama budget plan
The Senate passed a $3.53 trillion version of the federal budget for fiscal year 2010 late Thursday night in a party-line vote, ending several weeks of acrimonious partisan debate.
CNN: G-20 pumps $1 trillion into beating recession
Leaders of the world's largest economies agreed on Thursday to a package worth more than $1 trillion to tackle the global economic crisis.
CNN: Commentary: Obama has best day as president
If a statesman is one who looks to the next generation and a politician one who looks to the next election, a political consultant must be one who looks to the next tracking poll. Well, I'll go one better and just look at today - April 2, 2009.
CNN: Geithner on economy: 'Progress is going to be uneven'
CNN's Anderson Cooper spoke Thursday with Treasury Secretary Timothy Geithner at the G-20 economic summit in London, England.
CNN: Blagojevich indicted on 16 federal felony charges
Impeached former Illinois Gov. Rod Blagojevich, who was arrested in December on charges of conspiracy and fraud, was indicted Thursday on 16 felony counts by a federal grand jury, the U.S. attorney's office said.
NYT: Obama's Star Turn at Summit Gets Mixed Results
In his debut on the international stage, President Obama presented himself as the leader of an America that can no longer go it alone, and as abiding by the protocol of a global new deal.
Washington Post: As Crisis Loomed, Geithner Pressed But Fell Short
In September 2005, Timothy Geithner made one of his most visible moves as a supervisor of the U.S. banking system. He summoned the nation's top financial firms and their regulators to streamline an antiquated system that threatened Wall Street's boom.
WSJ Op-Ed: Boskin: Obama's $163,000 Tax Bomb
The House and Senate are preparing to pass President Barack Obama's radical budget blueprint, with only minor modifications, by using (abusing would be more accurate) the budget "reconciliation" process. This process circumvents the Senate's normal rules requiring 60 votes to prevent a filibuster. Reconciliation was created by Congress in the mid-1970s to enforce deficit reduction, the opposite of what the president and his party are aiming for.
LA Times: Obama the mediator on display at G-20 summit
They had shared three meals and a full day around a conference table. The last obstacle to a deal Thursday among world leaders at their economic summit was the contents of a single pair of parentheses.
Bloomberg: G-20 Shapes New World Order With Lesser Role for U.S., Markets
Global leaders took their biggest steps yet toward a new world order that's less U.S.-centric with a more heavily regulated financial industry and a greater role for international institutions and emerging markets.
The Economist: The Obama effect
Barack Obama had difficulty pronouncing the name of his Russian counterpart, Dmitry Medvedev, but people forgave him. In fact, they forgave him for almost everything: his aura seemed to glow ever brighter as he made his first foray into global, crisis-busting diplomacy.
Jerusalem Post: Obama reiterates support for Saudi peace initiative
US President Barack Obama reiterated his support for the Saudi Mideast peace initiative in a meeting with King Abdullah on Thursday night, the White House said in a statement.
Slate.com: The Return of Statecraft
Vast multinational conferences, like the G20 summit in London, are useful mainly for the "bilaterals"—the one-on-one side-room conversations—and, in these forums, President Barack Obama is living up to high expectations.
USA Today: Casualties caused by IEDs in Afghanistan on the rise
Roadside bombs cause 75% of casualties to coalition forces in Afghanistan, up from 50% two years ago, prompting urgent pleas from commanders there for more armored vehicles to protect troops, according to data and interviews.
NYT: Bloomberg Makes Early, Aggressive Bid for Black Support
A Harlem lawmaker, Assemblyman Keith L. T. Wright, long ago pledged to support a fellow African-American, William C. Thompson Jr., in this fall's mayoral election. But that did not stop two aides to Mayor Michael R. Bloomberg from traveling 150 miles from Manhattan to Albany to seek Mr. Wright's endorsement for the mayor a few weeks ago.
CNN: Borger: Obama revolution goes one step too far
In case you hadn't noticed, Washington is in the midst of a revolution. A new president, an economic meltdown.
Boston Globe: US weapons cuts could put N.E. jobs in jeopardy
Defense contractors, high-tech firms, and manufacturing plants are bracing for thousands of potential layoffs across New England resulting from the Obama administration's plans to cancel or delay key weapons programs, according to company officials, union representatives, and members of Congress.
Washington Post Op-Ed: Sen. Cardin: A Plan to Save Our Free Press
The newspaper industry is turning upside down. The Seattle Post-Intelligencer, the Rocky Mountain News, the Baltimore Examiner and the San Francisco Chronicle are among the papers that have ceased daily publication or announced in recent months that they may have to stop publishing. Not long ago, Tribune Co., owner of the Baltimore Sun, filed for bankruptcy.
NATIONAL
For the latest national news: www.CNN.com.
CNN: Jury awards $1 to professor fired for 9/11-Nazi essay
A jury Thursday found that former college professor Ward Churchill, who referred to victims of the September 11, 2001, attacks as "little Eichmanns" in an essay, was wrongfully terminated by the University of Colorado, according to a court official.
CNN: Vermont House passes same-sex marriage bill
The Vermont House on Thursday passed a same-sex marriage bill by 95-52, which is not enough of a margin to override a veto promised by the governor.
CNN: Oil to be moved from huge tanks near volcano
Officials will remove oil from two massive storage tanks near the base of erupting Mount Redoubt in Alaska, a spokesman said Friday.
Denver Post: Town buys into its own stimulus plan
This town understands as well as any the idea of priming a pump to get it flowing. And so city leaders are priming their economic pump with $50,000 in incentives for people willing to spend money in town. Anyone who buys a car this month from the eight local dealers receives a certificate for $100 worth of gas. And anyone who spends $300 within the city limits this month for items other than groceries, liquor and pharmaceuticals gets a $30 gift certificate that's good at most merchants.
Washington Post: Too Many Cars, and They're Not on the Road
The sea of new cars, 57,000 of them, stretches for acres along the Port of Baltimore. They are imports just in from foreign shores and exports waiting to ship out - Chryslers and Subarus, Fords and Hyundais, Mercedeses and Kias. But the customers who once bought them by the millions have largely vanished, and so the cars continue to pile up, so many that some are now stored at nearby Baltimore-Washington International Marshall Airport.
USA Today: Credit slashed for responsible borrowers more often
As lenders close a record number of credit card accounts and slash credit lines, they're targeting an unlikely population: responsible borrowers.
CNN: Radford University locked down after shooting death near campus
Students at Radford University in Virginia locked their doors and were being warned to stay inside early Friday, a day after a man was shot and killed near campus.
WSJ: In Confronting Its Biggest Foe, Green Movement Also Fights Itself
The modern environmental movement is having an identity crisis. Staring down its biggest enemy yet, it's fiercely divided over how to beat it.
LA Times: Defying economy, New Orleans keeps rebuilding
This city is a rarity in 2009: a place full of hard hats and big building projects and subcontractors roaring around in pickup trucks. A city where home prices have dipped only slightly, and where the unemployment rate is 5.3% - compared with 8.1% nationwide.
WSJ: Unemployed Lose Fallback Options
The growing ranks of unemployed Americans are turning to the traditional fallbacks - retail, restaurants, customer service - to ride out a rough economy. The bad news is job openings there are growing scarce, too.
Financial Times: Tent cities pose challenges for US census
The quality of the US census may be undermined because of rising numbers of people living in garages, tents, basements and motels as the financial crisis deepens, key organisations working with the Census Bureau have warned.
Boston Globe: From A to B with Z's
Just the words sleeper car are enough to conjure images of train travel at its most romantic, when a trip on the rails meant rubbing elbows with men in fedoras, young adventurers with valises, and perfectly tailored women in the club car, sipping Manhattans.
LA Times: Wind turbines could more than meet U.S. electricity needs, report says
Wind turbines off U.S. coastlines could potentially supply more than enough electricity to meet the nation's current demand, the Interior Department reported Thursday.
London Times: Robot scientist 'Adam' solves genetic problems
A robot has become the first of its kind to make a scientific discovery by solving a problem that human researchers have failed to crack for decades. The robot, called Adam, was able to work out where an important gene would be located and to develop experiments to prove its theory.
INTERNATIONAL
For the latest international news: www.cnn.com/WORLD/
CNN: U.S. to North Korea: Don't launch your rocket
The State Department on Thursday sent a blunt, public message to North Korea: Don't launch your rocket.
CNN: Venezuela: Chavez says he's willing to take Gitmo inmates
Venezuelan President Hugo Chavez says he would be willing to accept prisoners from the Guantanamo Bay detention center, which U.S. President Barack Obama has said he will close, the Venezuelan government said Thursday.
CNN: Malaysia swears in new prime minister
Malaysia swore in a new prime minister on Friday, the country's state news agency reported.
WSJ: Venezuelan Government Arrests Chávez Opponent
Venezuelan President Hugo Chávez moved to jail a prominent opposition figure for the second time in recent weeks, an apparent bid to tighten his grip on power amid a sharp downturn in economic growth.
The Economist: Beyond the crossroads
Under Suharto, the dictator who ruled for 32 years until 1998, Indonesian parliamentary elections were not so much rigged as scripted. But the pointless campaigns were lively, colourful affairs, giving an impressive imitation of the forms of democracy. Now that Indonesia enjoys the substance, too, political parties can give full vent to the voters' enthusiasm. The campaign for the parliamentary election on April 9th, the third since Suharto's downfall, has been a carnival of democratic competition: flag-waving, horn-honking processions; television-advertising blitzes; mass rallies with a few speeches, gifts of free T-shirts, 20,000 rupiah ($2) notes and, most important, singing and dancing.
The Weekly Standard: Embracing Genocide
April is Genocide Prevention Month in the United States–marking the anniversaries of six genocides around the world–and the month has gotten off to a dismal start. Arab leaders have just concluded their annual summit by showing solidarity with Sudanese President Omar al-Bashir, the Arab dictator recently indicted for war crimes by the International Criminal Court. Defying an arrest warrant, al-Bashir has spent the last week jetting to friendly capitals in Africa and the Middle East. "He is taking an important standing," chirped Mirwan Bishara, senior political analyst for Al Jazeera television. "It is a real act of defiance."
BUSINESS
For the latest business news: www.CNNMoney.com.
CNN: Geithner's perception problem
Where Tim Geithner sees a confluence of public and private interests, some people see a torrent of potential abuse.
NYT: G.M. Willing to Consider Bankruptcy
General Motors stated in a regulatory filing to the Treasury Department on Thursday that it is prepared to file for bankruptcy protection if it cannot restructure out of court.
WSJ: IBM Near Deal to Buy Sun for Lower Price
International Business Machines Corp. and Sun Microsystems Corp. are in the final stages of negotiations to combine the two corporate computer giants.
Forbes: Accounting Change, G-20 Send Street Higher
A change in accounting rules that may strengthen bank balance sheets and pledges to aid the global economy out of the G-20 Summit in London helped spur a rally that sent Wall Street to its best finish in over a month Thursday.
WSJ: For Some CEOs, the Perks Keep Flowing
The public outcry over corporate jets and other executive perquisites intensified last year, but that didn't ground top brass at Dana Holding Corp.
London Times: RBS to axe more jobs ahead of investor showdown
Philip Hampton, chairman of Royal Bank of Scotland (RBS), today gave warning the bank will add more job cuts to the 2,700 it has already announced as he launched an astonishing attack on the company's former management.
In Case You Missed It
To watch the latest interviews and reporting: http://www.cnn.com/video.
CNN: First lady's surprising hug
Charles Mosley talks about the significance of Michelle Obama putting her arm around Queen Elizabeth II.
CNN: McCain unveils own budget
Sen. John McCain unveils an alternative to President Obama's budget. He spoke with CNN's John Roberts.
CNN: Slowing smuggling to Mexico
Border inspections just scratch the surface when it comes to stopping U.S. weapons into Mexico. CNN's Jeanne Meserve reports