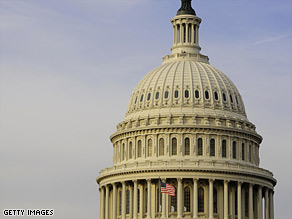 The U.S. House passed a $3.55 trillion budget for fiscal year 2010 Thursday night.
WASHINGTON (CNN) - The Senate passed a $3.53 trillion version of the federal budget for fiscal year 2010 late Thursday night in a party-line vote, ending several weeks of acrimonious partisan debate.
The package was approved on a 55-43 vote. GOP Sens. Arlen Specter of Pennsylvania, and Olympia Snowe and Susan Collins of Maine - who voted in favor of the president's stimulus bill last month - voted against what is essentially the blueprint of Obama's economic policies going forward.
Earlier in the evening, the House of Representatives passed its own version of the spending plan –$3.55 trillion budget, capping off a long day of debate and voting marked by the defeat of several alternative spending plans.
The House version of the budget, which passed by a margin of 233-196, also passed in a virtual party-line vote. All but 20 House Democrats supported it; no House Republican voted in favor.
Neither budget package garnered a single GOP vote.
In London, England, where he has been attending the Group of 20 summit, President Barack Obama lauded the budget votes.
"Tonight, the Senate has joined the House of Representatives in taking an important step toward rebuilding our struggling economy," he said in a statement.
Full story