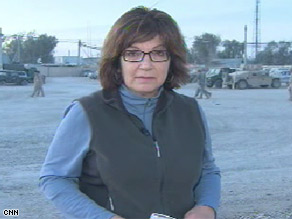 CNN's Barbara Starr says any soldier will agree - securing morning coffee is a priority.
CNN Pentagon correspondent Barbara Starr and photojournalist Peter Morris are traveling to southern Afghanistan with Gen. James Conway, Commandant of the Marines.
ADDIS ABABA (CNN) - When you are a CNN reporter out on the road, nothing is more important than the first task at hand every day - securing the morning's first cup of coffee. After that, you can handle just about anything, from the war zone to the flood zone.
No, I am not being silly. Any soldier will tell you the same thing. Morning coffee first. And nowhere is coffee a more serious business than in Ethiopia. (Did I mention? I am in Ethiopia on assignment.)
And after flying all night, I am up way too early because of jet lag. But yes, I have found a big, steaming, fantastic cup of Ethiopian coffee, so the day can begin now.
OK, now for the serious part. CNN cameraman Peter Morris and I left Andrews Air Force Base on the night of March 31 with Commandant of the Marine Corps Gen. James Conway and a small group of Marines.