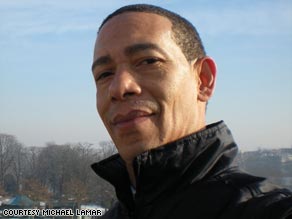 Michael Lamar was laid off in January but has a new job as a Barack Obama look-alike.
ISTANBUL, Turkey (CNN) - Regular programming has just been interrupted by a news conference. A slender black man in a suit steps up to a podium, flanked by American flags and a White House logo.
"I wish I could announce such an economic package," he says, "but there is a bank in Turkey that did it. It is Garanti. I wish we had Garanti in America."
Don't be fooled. This is a commercial on Turkish TV. The actor is a 44-year-old Barack Obama look-alike from Whitehall, Pennsylvania, named Michael Lamar. And he is shilling for a Turkish bank.
In the month before the real Barack Obama is to visit Turkey, this ad campaign went out all across the country on television and on billboards, using the iconic, Warholian image of the American president to sell low-interest loans.
The "Mad Men" behind the concept say their Obama look-alike was the perfect guy to sell what they described as Garanti Bank's own economic stimulus package.

Full Story