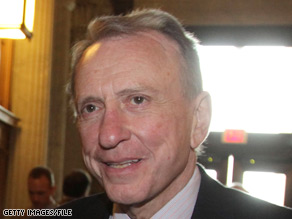 Sen. Arlen Specter's campaign manager sent a letter to potential challenger Pat Toomey.
WASHINGTON (CNN) – There are no officially-announced GOP challengers to Sen. Arlen Specter just yet - but the fight for the 2010 Republican primary in Pennsylvania is already turning brutal.
Specter's campaign manager, Christopher Nicholas, sent a letter to Club for Growth President Pat Toomey on Monday asking that he release the name of the organization members receiving federal bailout money from the Troubled Asset Relief Program.
"Senator Specter's campaign will not engage in reciprocal name calling with you. All we want are the facts," Nicholas said in the letter.
Nicholas added, "If you again refuse, the next question is, what do you have to hide?"
Last week, Specter released an ad trying to highlight Toomey's ties to Wall Street and said that while he worked as a trader, he sold the same "risky derivatives" that "have now plunged us into this financial mess."
Toomey, who has been critical of Specter's support for Obama's stimulus plan, has strongly hinted that he will run for Senate in 2010, but hasn't officially made an announcement yet. He narrowly lost a 2004 primary challenge for Specter's seat.