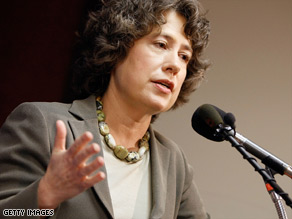 FDIC chairman Sheila Bair is regularly published in Highlights magazine and has written two books.
(CNN) –– Sheila Bair, chairman of the Federal Deposit Insurance Corporation, is one of the few women in the generals' tent of the nation's economic war.
Forbes magazine calls her the second most powerful woman in the world, after German Chancellor Angela Merkel but well ahead of both Oprah Winfrey and Hillary Clinton.
"Watch out Angela!" laughed a good natured Bair in an interview with CNN.
By day Bair keeps the nations banks stable. But by night she wears a second hat - writing children's stories about saving and investing money. She's regularly published in the children's magazine Highlights and has written two books: "Isabel's Car Wash" and "Rock, Brock and the Savings Shock."