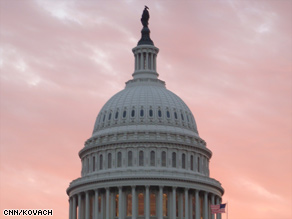 WASHINGTON/POLITICAL
For the latest political news: www.CNNPolitics.com.
CNN: Biden rebukes Cheney, guarantees we're 'safer today'
Vice President Joe Biden brushed aside recent criticism by predecessor Dick Cheney that moves by the Obama administration had put the United States at risk, telling CNN on Tuesday that the former vice president was "dead wrong."
CNN: Borger: What surprises Biden the most
During the presidential campaign, vice presidential candidate Joe Biden loved to remind us all of his working-class roots - born in Scranton, Pennsylvania, son of a car dealership manager.
CNN: Same-sex marriage rights a step closer in District of Columbia
On the same day that Vermont's House and Senate voted to override GOP Gov. Jim Douglas' veto of a bill legalizing same-sex marriage in the state, the Washington City Council voted 12-0 Tuesday in favor of allowing same-sex marriages performed in other states to be recognized in the nation's capital.
CNN: Official: Millions spent defending Pentagon computers from attack
The U.S. military has spent at least $100 million defending its computer network from and responding to cyberattacks, according to a top official responsible for network security.
CNN: LBJ and Reagan loyalists clash over Obama agenda
"Who controls the past controls the future." It's a line from George Orwell's novel "1984." But it could also serve as the rallying cry for two groups battling over President Obama's ambitious domestic agenda - and the legacy of two former presidents.
CNN: Sen. Ted Stevens' conviction set aside
A federal judge on Tuesday set aside the conviction of Republican former Sen. Ted Stevens while excoriating the case's prosecutors.
Financial Times: US moves against Iran nuclear trade
New York prosecutors joined the Obama administration yesterday in shutting down a China-based network that allegedly supplied Iran's nuclear and missile programmes with the unwitting aid of some of Wall Street's biggest banks.
Chicago Tribune: Obama trips are calculated risk
When Americans learned that unemployment had reached its highest level in a quarter century last week, President Barack Obama was midway through a star turn in Europe. And next week, with barely time to pack fresh shirts and refuel Air Force One, he's off again–first to Mexico, then on to a summit meeting in the Caribbean.
Washington Post: Awareness Campaign On HIV/AIDS Begins
The Obama administration began a five-year, $45 million media blitz yesterday to spark awareness about HIV infection and AIDS, saying that Americans have grown complacent about the deadly illness even though it represents "a serious threat to the health of our nation."
LA Times: California to use $415 million from stimulus to aid the unemployed
California is moving quickly to pump $415 million in federal stimulus money into upgrading job training and placement services at employment centers around the state, Gov. Arnold Schwarzenegger announced Tuesday.
Washington Post: Wishing and Hoping and Networking
They are the Obama-wannabes, many of them young and heady former campaign workers, frantically networking or waiting, just waiting, for the ultimate status symbol in their generation's caste system: a job in the Obama administration.
Slate.com: The Careful Exaggerator
As President Obama traveled through Europe, he was a study in nuance. Speaking to a town hall in Strasbourg, France, he admitted American arrogance but also chided Europeans for their casual anti-Americanism. In another context, he quoted his college law professor: "Some are to blame, but all are responsible." In a town hall with students in Turkey, he pushed for nuance as an end in itself: "In the Muslim world, this notion that somehow everything is the fault of the Israelis lacks balance. There are two sides to every question. ... I say the same thing to my Jewish friends—which is, you have to see the perspective of the Palestinians. Learning to stand in somebody else's shoes, to see through their eyes—that's how peace begins."
Chicago Tribune: Quigley claims victory in race to replace Rahm Emanuel
Democratic Cook County Commissioner Mike Quigley claimed victory tonight in the 5th District race to replace Rahm Emanuel in Congress.
Washington Times: Bush AIDS fight saved 1.1M, study says
Former President George W. Bush's international AIDS-fighting campaign has reduced by 10 percent the mortality rates in 15 targeted countries, primarily in Africa, and has saved 1.1 million lives, according to a study that for the first time quantified the successes of his program.
Gallup: Obama Approval Rating Stable, Polarized
President Barack Obama's overall job approval rating has been highly stable since mid-February, averaging 62% since Feb. 16, as well as in the most recent week, from March 30 through April 5.
NATIONAL
For the latest national news: www.CNN.com.
CNN: VA looking into possible contamination at medical facilities
The Department of Veterans Affairs has launched an investigation into whether there is a connection between improperly sterilized endoscopy equipment and a veteran's positive HIV test.
WSJ: Electricity Grid in U.S. Penetrated By Spies
Cyberspies have penetrated the U.S. electrical grid and left behind software programs that could be used to disrupt the system, according to current and former national-security officials.
NYT: With Victories, Gay Rights Groups Expand Marriage Push
Gay-rights groups say that momentum from back-to-back victories on same-sex marriage in Vermont and Iowa could spill into other states, particularly since at least nine other legislatures are considering measures this year to allow marriage between gay couples.
USA Today: Housing agencies faulted in audits to get $300M of stimulus
The federal government will soon send more than $300 million in stimulus funds to 61 housing agencies that have been repeatedly faulted by auditors for mishandling government aid, a USA TODAY review has found.
Washington Post: Bids Pour In for State Construction Jobs
Construction firms are so eager for work in the sagging economy that project bids are coming in much lower than expected, allowing state and local governments to stretch their federal stimulus dollars further.
LA Times: Nevada debates whether to tax its working girls
With its gleaming Vegas Strip and stucco sprawl, Nevada has portrayed itself as a model of the civilized West. But every so often, such as Tuesday, holdovers from its boisterous beginnings show up at the Capitol - and they are named Chicken Ranch, Pussycat Ranch and Shady Lady.
LA Times: Factory boats face cap on accidental salmon catch
The giant factory fishing boats that take billions of pounds of pollock from Alaska's Bering Sea would face major limits on salmon caught accidentally in their nets under controversial regulations recommended Monday.
Once marketed as a fountain of youth, hormone replacement therapy is now believed to be just the opposite. Even the term hormone replacement therapy (H.R.T.) has come under fire.
Seattle Times: More seniors using vehicles as shelter
Sporting a black cowboy hat, Gene Sargent steps up to the microphone at Dave's Restaurant in Milton, Pierce County, launching into an old Sons of the Pioneers tune. It conjures up his memories of when he was married the first time, had a wife with long brown hair; was a new father and had a job in Modesto, Calif. — before everything slowly came apart like the seeds of a tumbleweed.
USA Today: After layoffs, many workers go back to school
In this tough economy, the path from a layoff to a new career often runs through a classroom.
Boston Globe: Hurricane outlook cut to 12 storms
Colorado State University's Atlantic hurricane forecast, the most-watched annual prediction, was lowered yesterday to 12 named storms for the 2009 season, with at least six developing into hurricanes.
INTERNATIONAL
For the latest international news: http://edition.cnn.com/
CNN: 15 years later, Rwanda remembers the massacre
Crowds gathered in somber reflection near the Rwandan capital of Kigali on Tuesday, marking the 15th anniversary of the start of a 100-day genocidal massacre in Rwanda in which an estimated 800,000 people were brutally killed.
CNN: Aftershocks rattle quake rescue efforts
The arduous work of combing through rubble and treating the wounded of this medieval city continued into the early hours of Wednesday morning, even as the death toll from the powerful earthquake that rocked the area continued to climb.
CNN: Indonesians gear up for key polls
A candidate for Indonesia's upcoming legislative election smiles broadly, flanked by a photo illustration of U.S. President Barack Obama and Al Qaeda leader Osama bin Laden - his hands clasped over theirs.
CNN: U.S. lawmakers meet with Fidel Castro
Fidel Castro, the longtime communist leader of Cuba, met with visiting members of the U.S. Congressional Black Caucus on Tuesday, a day after his brother, Raúl, who succeeded him as president, did the same, according to a U.S. official in Havana.
Times of India: Holbrooke, Mullen meet Narayanan
US special envoy Richard Holbrooke on Wednesday met National Security Adviser M K Narayanan and is understood to have discussed how India could help Washington's strategy aimed at ending terror threats emanating from Afghanistan and Pakistan.
WSJ: In Iraq, Obama Pushes for Political Solutions
President Barack Obama made a surprise visit to Baghdad, which has been rocked by a spate of recent bombings, to urge the leaders of Iraq's feuding sectarian factions to find "political solutions" to their disputes.
CS Monitor: North Korea used dummy satellite, South Korean experts say
The satellite that North Korea insists it has sent into orbit was evidently a dummy that the North manufactured to justify testing a Taepodong-2 missile, South Korean space experts say.
Al Jazeera: World 'ignored Rwanda genocide'
Paul Kagame, the Rwandan president, has criticised world powers for "abandoning" the country to genocide in 1994, in which more than one million people were slaughtered.
NYT: Thousands Protest in Bangkok
Thousands of anti-government protesters — many of them dressed in red, their signature color — gathered in central Bangkok on Wednesday morning as the Thai capital braced for a new round of political demonstrations.
BUSINESS
For the latest business news: www.CNNMoney.com.
CNN: Banks brace for derivatives 'big bang'
One corner of the wild and wooly world of derivatives is about to get a little tamer - and not a moment too soon for those who fret over the rising cost of bailouts.
CNN: Credit card crackdown: Rage vs. clout
It's been an annual rite in Washington for more than a decade: Key Democrats in Congress vow to crack down on credit card companies and protect consumers.
Financial Times: AIG aircraft unit seeks $5bn Fed credit line
AIG's aircraft-leasing unit is in talks over a $5bn credit line from the Federal Reserve that could be used to facilitate its sale – an unusual move that would raise the stakes in the US government's bail-out of the stricken insurer.
WSJ: Zipcar Plans Partnership With Zimride
Zipcar Inc., the world's largest car-sharing company, plans to announce Wednesday a partnership with Zimride, a fast-growing online carpooling service that uses social networking tools like Facebook Inc. to match potential riders and drivers on university campuses or at companies like Wal-Mart.
Bloomberg: Congressional Panel Suggests Firing Managers, Liquidating Banks
A congressional panel overseeing the U.S. financial rescue suggested that getting rid of top executives and liquidating problem banks may be a better way to solve the economic crisis.
London Times: 9,000 jobs go at Royal Bank of Scotland on bleakest day of year
Royal Bank of Scotland said yesterday that it planned to lose 9,000 jobs, half of them in Britain, on top of the 2,700 it has already cut here this year.
Business Week: Putting a Price on Social Connections
Messaging with the boss much? Maybe you ought to be. Workers who have strong communication ties with their managers tend to bring in more money than those who steer clear of the boss, according to a new analysis of social networks in the workplace by IBM (IBM) and Massachusetts Institute of Technology.
In Case You Missed It
To watch the latest interviews and reporting: http://www.cnn.com/video.
CNN: Vice President Biden on CNN
Vice President Joe Biden sits down for an exclusive interview with "The Situation Room."
CNN: Biden: Cheney 'dead wrong'
Vice President Joe Biden says his predecessor is 'dead wrong' in criticizing the new administration.
In tough economic times it's hard to imagine a good samaratin returning a signed $357,000 check. Affiliate KCAL reports.
CNN: Michelle Obama, her mom in WH
Michelle Obama and her mom handle the pressures of raising children in the White House.