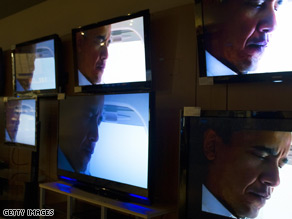 One thing President Obama doesn't watch – 24-hour cable news.
(CNN) - What does "Hannah Montana" have in common with "Entourage?" Both shows are likely to be playing on the White House television.
It seems President Obama can't live without the hit HBO show Entourage, according Politico. The show features a Hollywood agent based on real-life super agent Ari Emanuel – the younger brother of White House Chief of Staff Rahm Emanuel.
During the campaign season, Obama was actually late to a Sunday night conference call because he was catching his favorite show, White House Press Secretary Robert Gibbs told Politico.
"I remember one time I e-mailed him because the call was scheduled for the last 15 minutes of 'Entourage' and I said, 'Just be late and we can just watch Entourage and still get on and do the call.'"
"And it worked," Gibbs told Politico. "We got to see Entourage.'"
Another favorite of Obama's is "The Wire," an HBO police drama that takes place in Baltimore, Maryland.
The president also tunes into sports – catching NBA and NCAA basketball games, as well as ESPN's "SportsCenter." Obama watched an NCAA game aboard Air Force One last month when returning from California, Politico reported.
But when daughters Sasha and Malia around, the Obamas watch more kid-geared shows, like "Hannah Montana" and "SpongeBoB Squarepants."
The Obamas also have been making use of the White House movie theater, checking out flicks like "Slumdog Millionaire" and "The Wrestler," Politico reported.
But one thing he doesn't watch – 24-hour cable news. He also avoids replays of his own news conferences. "We usually tell him how we think he did," said adviser Valerie Jarrett told Politico.