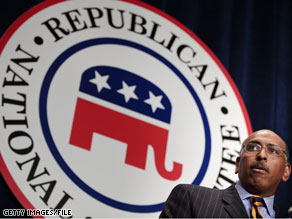 RNC chairman Michael Steele was told he could attend but not speak at an upcoming gathering of conservatives in Chicago.
(CNN) – Organizers turned down Republican National Committee chairman Michael Steele's recent request to speak at a conservative gathering in Chicago because the event is focused on "everyday citizens," one of the event's organizers told CNN Thursday.
A representative for Steele reached out Tuesday to Eric Odom, one of two lead organizers for an April 15 gathering in Chicago that is part of the so-called "tea party" movement against government spending and in favor of the free enterprise system. Odom responded to the Steele request via e-mail on Wednesday.
"We respectfully asked that he attend but said that we would not be giving him stage time [to speak]," Odom told CNN.
Steele's rejection was based in the organizers' desire to have the event focused on the views and participation of the conservative grassroots rather than on elected officials holding political office or official positions in political parties.
"This is an opportunity for everyday citizens to speak and for elected officials to listen," Odom said Thursday. "We've been listening to them for years. On April 15, we are taking this opportunity to speak to them. It's not an opportunity for them to speak to us."
The national "tea party" movement was inspired by CNBC correspondent Rick Santelli's late February outburst on the floor of the Chicago Mercantile Exchange. Joined by several traders, Santelli expressed frustration about the Obama administration's plan to increase government spending in the hopes of turning around the economy and helping homeowners struggling to pay their mortgages. During the outburst, Santelli suggested the idea of having a "Chicago tea party" on the shores of Lake Michigan.