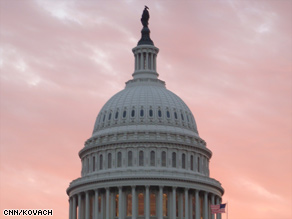 WASHINGTON/POLITICAL
For the latest political news: www.CNNPolitics.com.
CNN: U.S. to join nuclear talks with Iran, State Department says
In a dramatic break from previous policy, the United States will join direct talks between U.N. and European powers and Iran over Tehran's nuclear program, the State Department announced Wednesday.
CNN: Clinton 'deeply concerned' about pirate attacks
Secretary of State Hillary Clinton late Wednesday called for international cooperation to combat piracy like this week's attack on a U.S. ship and crew off the coast of Somalia.
Tomorrow night President Obama will attend what could be the first White House seder in the old family dining room of the residence, a White House official tells CNN. And it won't be the President's first.
CNN: Congressman denies Castro's 'racist' claim
A Missouri congressman is denying former Cuban president Fidel Castro's claim that a member of the fact-finding delegation described the U.S. as "racist."
CNN: Commentary: Liking Obama, opposing his White House
As I watched President Obama conduct a town hall meeting in Strasbourg, France, the other day, a chilling realization crossed my mind: I like the guy.
NYT: Obama to Push Immigration Bill Despite the Risks
While acknowledging that the recession makes the political battle more difficult, President Obama plans to begin addressing the country's immigration system this year, including looking for a path for illegal immigrants to become legal, a senior administration official said on Wednesday.
Washington Post: Security-Clearance Checks For OPM Allegedly Falsified
Half a dozen investigators conducting security-clearance checks for the federal government have been accused of lying in the reports they submitted to the Office of Personnel Management, which handles about 90 percent of the background inquiries for more than 100 agencies.