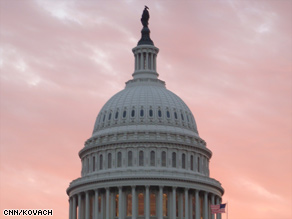 WASHINGTON/POLITICAL
For the latest political news: www.CNNPolitics.com.
CNN: U.S. to join nuclear talks with Iran, State Department says
In a dramatic break from previous policy, the United States will join direct talks between U.N. and European powers and Iran over Tehran's nuclear program, the State Department announced Wednesday.
CNN: Clinton 'deeply concerned' about pirate attacks
Secretary of State Hillary Clinton late Wednesday called for international cooperation to combat piracy like this week's attack on a U.S. ship and crew off the coast of Somalia.
Tomorrow night President Obama will attend what could be the first White House seder in the old family dining room of the residence, a White House official tells CNN. And it won't be the President's first.
CNN: Congressman denies Castro's 'racist' claim
A Missouri congressman is denying former Cuban president Fidel Castro's claim that a member of the fact-finding delegation described the U.S. as "racist."
CNN: Commentary: Liking Obama, opposing his White House
As I watched President Obama conduct a town hall meeting in Strasbourg, France, the other day, a chilling realization crossed my mind: I like the guy.
NYT: Obama to Push Immigration Bill Despite the Risks
While acknowledging that the recession makes the political battle more difficult, President Obama plans to begin addressing the country's immigration system this year, including looking for a path for illegal immigrants to become legal, a senior administration official said on Wednesday.
Washington Post: Security-Clearance Checks For OPM Allegedly Falsified
Half a dozen investigators conducting security-clearance checks for the federal government have been accused of lying in the reports they submitted to the Office of Personnel Management, which handles about 90 percent of the background inquiries for more than 100 agencies.
NYT: U.S. Imagines the Bailout as an Investment Tool
During World War I, Americans were exhorted to buy Liberty Bonds to help their soldiers on the front.
WSJ: Obama Risks Liberal Backlash on War Funding
President Barack Obama plans to request new funding from Congress for the conflicts in Iraq and Afghanistan, but he risks a backlash from antiwar lawmakers.
LA Times: U.S. to join group negotiating with Iran
The Obama administration said Wednesday that it will for the first time become a regular participant in group negotiations aimed at curbing Iran's nuclear ambitions, another signal of its eagerness for talks with the Islamic Republic.
SF Chronicle: Greenhouse gases must be cut, Obama aide says
In sharp contrast to the low priority the Bush administration gave to global warming, President Obama's new science adviser said Wednesday that the world's industrialized nations must immediately cut greenhouse gas emissions to ward off the most extreme effects of climate change.
The Economist: Two cheers and a jeer
After Barack Obama's first long jaunt abroad as president, Americans are in two minds. Some are delighted that so many foreigners love him. Others fret, like Machiavelli, that it is often better to be feared than loved, and that the people who ought to fear America don't take Mr Obama seriously.
Chicago Tribune: White House wealth: President Barack Obama's team virtually all Chicago millionaires
When President Barack Obama moved into the White House earlier this year, he took several of his fellow Chicago millionaires with him.
WSJ Op-Ed: Rove: The President Has Become a Divisive Figure
The Pew Research Center reported last week that President Barack Obama "has the most polarized early job approval of any president" since surveys began tracking this 40 years ago. The gap between Mr. Obama's approval rating among Democrats (88%) and Republicans (27%) is 61 points. This "approval gap" is 10 points bigger than George W. Bush's at this point in his presidency, despite Mr. Bush winning a bitterly contested election.
Boston Globe: He's not buying bygones for Bush
One of the old hands in the US Senate, Democrat Pat Leahy of Vermont, likes to tell of the oversight hearing when a former Bush administration official tried to brush off an inquiry from the rookie senator from Rhode Island, Sheldon Whitehouse.
US News & World Report: Congress Sends Obama a Bill to Boost Community Service
There may not be much agreement in Congress about President Obama's plans for the budget, Detroit's struggling car companies, or, well, much of the rest of the economy. But last week, a bipartisan group of lawmakers found common ground on at least one issue close to Obama's heart: the importance of community service.
Washington Times: Did Madame Tussauds snub GOP first ladies?
After the fanfare surrounding first lady Michelle Obama's new wax figure at Madame Tussauds in downtown Washington Tuesday, we noticed something peculiar: No Republican first ladies have had the honor of being immortalized in wax at the museum.
NATIONAL
For the latest national news: www.CNN.com.
CNN: U.S. warship nears boat carrying pirates
A U.S. warship arrived before dawn Thursday near a 28-foot lifeboat holding four pirates and the kidnapped captain of a U.S.-flagged cargo ship, officials said.
CNN: Poll: Fewer Americans support stricter gun control laws
From Oakland, California, to Binghamton, New York, several mass shootings in recent weeks have killed dozens across the country. But has there been an effect on public opinion?
CNN: Christian doctors' group protests rolling back 'conscience' rule
An organization of Christian physicians argued Wednesday against an impending rollback of a federal rule allowing health care workers to refuse to provide certain reproductive services, saying it's discriminatory.
CNN: More job cuts likely in New York City
New York City's Office of Management and Budget announced Wednesday an additional round of layoffs may be necessary to offset the city's 2010 budget shortfall.
Washington Post: Studies Find A Way Adult Bodies May Fight Obesity
Three new studies show that most adults have unexpectedly large and active deposits of a calorie-burning type of fat that biologists once thought disappeared after infancy.
USA Today: Faster unemployment service on the way
For millions of jobless people dependent on unemployment benefits, the wait for help may be getting shorter.
WSJ: Gold-Plated Economy in Nevada Town Becomes Rare Beacon for the Jobless
Gold fever has inoculated this historic cow town from the state's economic malaise, making it an island of relative prosperity in a state flooded with unemployed workers.
USA Today: Cities cleaning, 'greening' urban alleys
Cities are starting to see the thousands of miles of alleys ways that line the backside of homes and buildings in a new light.
LA Times: U.S. citizens caught up in immigration sweeps
Rennison Vern Castillo thought his legal troubles were nearly over at the end of a jail stay for harassing his ex-girlfriend. But then a U.S. immigration hold order blocked his release.
NYT: Colleges in 3 States to Set Basics for Degrees
In the first American effort of its kind, universities and colleges in Indiana, Minnesota and Utah are starting pilot projects to make sure that degree programs in their states reflect a consensus about what specific knowledge and skills should be taught.
Boston Globe: Public schools to send home weight reports
Starting in the fall, public schools across Massachusetts will send reports home to parents alerting them if their child weighs too much or too little – the centerpiece of a campaign to shrink bulging waistlines and halt obesity-related diseases once rare in children.
WSJ: Dogged Pursuit: Professionals Find New Livelihood Selling Frankfurters
In hard times, some small-town Americans are turning to a new livelihood with relish.
LA Times: Federal officials ban salmon fishing off California coast
Federal fishery managers voted unanimously Wednesday to ban commercial salmon fishing off the coast of California for the second year in a row, a move some fishermen fear could imperil the industry's future in the name of saving it.
Forbes: Can This Man Fix The Housing Market?
Shaun Donovan has the worst job in Washington and doesn't seem to know it.
Boston Globe: New to the market
A growing number of first-time buyers are jumping into the housing market this spring because of falling prices, historically low mortgage rates, and an $8,000 federal tax credit.
Business Week: Chinese Investors Are Buying U.S. Homes
At the end of February, 40 wealthy Chinese embarked on a housing tour of the US. The trip, run by Soufun Holdings, one of China's largest real estate companies, kicked off in Boston and continued on to San Francisco, Los Angeles and New York. For a fee of US$3,600 apiece, tour group members perused homes in the US$500,000 to US$1 million range.
Newsweek: Faith Isn't Under Fire
I wrote a cover story for NEWSWEEK this week entitled "The Decline and Fall of Christian America." In the essay I argued that two things were going on in American religion this Holy Week. First, that new (and newish) data suggested that the percentage of Americans who self-identify as Christians has been falling, albeit from astronomical heights to semiastronomical ones. The second point is that the political project undertaken by politically and theologically conservative Christians in the wake of Roe v. Wade—what we call, in cultural and political shorthand, the rise of the religious right—has failed.
Providence Journal: Now the tax will kill ya
Deanna LeBlanc knows what she wants as she ambles into a convenience store in downtown Providence and glances behind the counter. It's a new day, about 11 a.m., and LeBlanc is looking for her trusted companion — a pack of Newports.
INTERNATIONAL
For the latest international news: www.cnn.com/WORLD/
CNN: UK terror chief quits after security blunder
Britain's top counter-terrorism officer has resigned, the London mayor's office said Thursday, a day after he accidentally exposed a sensitive document about a terrorism investigation.
CNN: Aftershock shakes Italy quake zone
A strong aftershock rattled central Italy early Thursday as thousands of Italians in the region were still coping in the aftermath of Monday's deadly quake in nearby L'Aquila.
CNN: Iran charges U.S. journalist with spying
Iranian authorities have charged detained American journalist Roxana Saberi with espionage, Iran's Press TV reported.
CNN: Source: 12 arrested in 'very serious' terror plot in UK
British police Wednesday arrested 12 people in a counterterrorism operation, and locations were being searched, authorities said.
Washington Post: Extremist Web Sites Are Using U.S. Hosts
On March 25, a Taliban Web site claiming to be the voice of the "Islamic Emirate of Afghanistan" boasted of a deadly new attack on coalition forces in that country. Four soldiers were killed in an ambush, the site claimed, and the "mujahideen took the weapons and ammunition as booty."
Times of India: Terrorists stealing info from matrimonial sites
Prospective brides and grooms who avail services of online matrimonial sites, will now have to be more cautious as their photographs and personal details registered on such websites might be lifted by the terrorists for making fake identities.
WSJ: Georgians Plan Big Protest of President
Opposition leaders are calling for Georgians to take to the streets on Thursday to force President Mikheil Saakashvili to resign and call early elections.
Washington Post: U.S. Journalist Held in Iran Faces Charges of Spying
Roxana Saberi, an American freelance journalist who has been in custody in Iran since January, has been charged with spying, the judge in the case told Iranian state television Wednesday.
LA Times: For Shiite cleric in Iraq, good and bad are intermixed
All of the past is alive in Najaf's winding alleys, and none of it is forgotten by Ayatollah Mohammed Hussein Hakim, who grins frequently and seems to delight in contradiction, as if his own suffering made him accept the paradoxes around him.
BBC: Kosovo civilian abuses revealed
The Kosovo Liberation Army (KLA) abducted civilians in Kosovo who were then mistreated and in some cases killed, a BBC investigation has found.
The commander of NATO forces in Afghanistan, General David McKiernan, offered a bristling salute and plenty of encouragement as the first 240 volunteers for the Afghan Public Protection Programme (AP3) graduated from training in late March. There are great hopes riding on what he called "purely an Afghan initiative", which seeks to emulate the startling impact of the "Sons of Iraq" experiment. But the programme has many sceptics.
The New Yorker: Can Iran Change?
Ever since Mahmoud Ahmadinejad first ran for President of Iran, four years ago, he has shown a canny understanding of communications.
BUSINESS
For the latest business news: www.CNNMoney.com.
CNN: Miami housing: The power of cheap
Ivette Castillo thought buying a home at a time like this was out of the question. But when a friend told her there were great deals to be had in Miami, Castillo decided to test the waters.
CNN: Ten business strategies to organize your home
About 11 years ago, two big things happened in my life: My wife and I started a family, and I launched a consulting firm. For years I was much more successful at running my company than managing our family - probably because I was taking specific steps to improve my business, then going home and winging it.
WSJ: Salary Cuts: Ugly, But It Could Be Worse
You may have survived your company's latest round of layoffs, but that doesn't mean you're out of the woods yet.
NYT: Apple Sued Over Touch-Screen Rights
The Taiwanese company Elan Microelectronics has sued Apple, alleging infringement of two of its touch screen patents, an Elan spokesman said Wednesday.
LA Times: Madoff-type schemes are proliferating on YouTube
Here come the mini-Madoffs.
Bloomberg: Southeastern Stands to Lose $500 Million on IBM Offer to Sun
Sun Microsystems Inc.'s biggest shareholder could face a loss of more than $500 million on its investment if Sun sells to International Business Machines Corp. under terms discussed last week.
Financial Times: Mars goes sweet for ethically sourced cocoa
Mars, which owns the Mars, Snickers and M&M candy brands, is to spend tens of millions of dollars annually certifying that the cocoa used in the $10bn of chocolate products it sells every year is sustainably sourced by 2020.
Business Week: Cars Gone Wireless
Ford is getting its geek on. Like other automakers, the U.S. carmaker has long outfitted cars with CD players, satellite radios, and navigation systems. But now, Ford also boasts Web access.
In Case You Missed It
To watch the latest interviews and reporting: http://www.cnn.com/video.
CNN: Texting gets teen grounded
A Wyoming teen sent 10,000 texts in a month, sticking her parents with a $4,000 cell bill! KUSA reports.
CNN: McCain's daughter sounds off
CNN's Roland Martin talks politics with Meghan McCain.
A diner dials 911 over missing shrimp in shrimp fried rice. Jeanne Moos has the 411 on fast food 911 calls.
CNN: House that costs $0 has a catch
A historic home in Colorado is being offered for free, but the new owner will have to move it. KUSA reports.