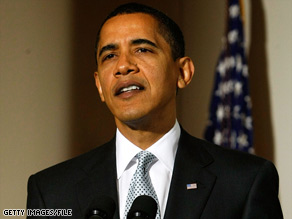 ASU is expanding what it calls its most important scholarship program and naming it after President Obama.
(CNN) - Arizona State University appeared to backtrack Saturday in the controversy over not giving President Barack Obama an honorary degree, and said it would pay tribute to the president by expanding its most important scholarship program and naming it after him.
"I apologize for the confusion surrounding our invitation to President Obama to address ASU students at commencement," said ASU President Michael Crow said in a news release from the university.
"The entire ASU community has been electrified with excitement since we learned of his participation in our commencement ceremony. We hope that the recent discussion of honorary degrees will not detract from the honor and thrill that ASU – and indeed all of Arizona – is experiencing in anticipation of his visit. I am honored, as are our faculty, staff and students, that President Obama will give his first commencement speech as president of the United States at ASU."
The president is scheduled to deliver the commencement address at ASU on May 13.
RELATED: Arizona State students scalping Obama commencement tickets
The school faced criticism after it said it would not give Obama an honorary degree, something the university describes as a way to acknowledge people who have made contributions to society.
The university said earlier that the president's achievements have yet to rate the honor, and directed reporters to use a statement given to the Associated Press. "His body of work is yet to come. That's why we're not recognizing him with a degree at the beginning of his presidency," Media Relations Director Sharon Keller told the AP Thursday.
The university's guidelines say the degree is merited by "significant contributions to education and society over the course of a person's career," though Sandra Day O'Connor and Barry Goldwater — both Arizonans — received the honor after the latter had served just over one term in the Senate, and the former was roughly three years into her Supreme Court tenure. Also honored: activist Cesar Chavez, legendary Arizona senator and former presidential candidate Mo Udall and broadcaster Walter Cronkite.
Crow said the school had always intended to recognize and honor Obama's accomplishments, but had not yet determined the best way to do so.
"Although the focus and attention of the media and others has been on an honorary degree, we never felt that was the only–or even the best–means of honoring his tremendous service to our country," Crow said. "Naming this scholarship program after President Obama that will affect the lives of thousands of students is an honor befitting, not only the president's exceptional achievements, but also his values as an individual. The President Barack Obama Scholars program will be a legacy that will endure and inspire others for generations to come."
The school said the expanded scholarship program will provide thousands of students with the greatest financial need the opportunity to go to college.
- CNN's Kate Bolduan and Kristi Keck contributed to this report.