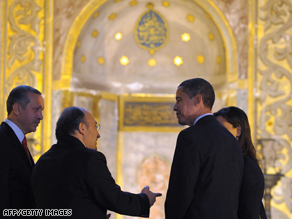 President Obama visits the Hagia Sophia in Istanbul during his bridge-building and sight-seeing trip to Turkey.
(CNN) - The collapse of the U.S. economy has dominated the first months of Barack Obama's presidency.
But after last week's G-20 summit in London, Obama was in Turkey and Iraq this week, underscoring a different point.
Once he's taken care of problems at home, most of his biggest business is in the Muslim world.
Iraq: Obama owes his election in part to his opposition to the war in Iraq. Now, he plans to withdraw U.S. combat troops. But Iraq is still so dangerous that Obama had to keep his visit a surprise and be content with a quick look from behind U.S. barbed wire. Will U.S. forces really be able to back out?
Afghanistan: Obama has made this war his own, vowing to win, promising to keep terrorists from again taking refuge on Afghan soil. Even after more than seven years of fighting, the challenge is daunting and some Americans are already musing about whether it will be 'Obama's Vietnam'.

Pakistan: The Obama administration sees Pakistan as both a base for insurgents in Afghanistan and a battleground in its own right. Militants threaten the stability of the country and also potentially the security of its nuclear weapons. What's the best way for Obama to respond?