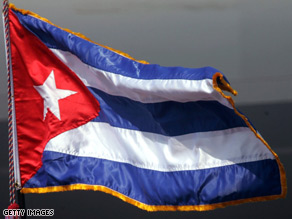 A CNN poll this month found 7 in 10 Americans back re-establishing diplomatic relations with Cuba.
WASHINGTON (CNN) - The Obama administration has decided to loosen restrictions on travel and remittances to Cuba for Cuban-Americans, senior administration officials confirmed Monday.
The White House plans to announce the change later in the day.
The decision represents a significant shift in U.S. policy toward Cuba. It comes days before Obama leaves for the Summit of the Americas in Trinidad and Tobago.
Related: 7 in 10 Americans back diplomatic relations with Cuba, according to a CNN/ORC poll
Before he was elected president, Obama promised to lower some of the barriers in Cuban-American relations. Provisions attached to a $410 billion supplemental budget Obama signed in March also made it easier for Cuban-Americans to travel to Cuba and to send money to family members on the island. In addition, they facilitated the sale of agricultural and pharmaceutical products to Cuba.
The provisions loosened restrictions enacted by President George W. Bush after he came to office in 2001.
Several members of Congress see broader relations with Cuba as vital to U.S. interests. A group of senators and other supporters unveiled a bill March 31 to lift the 47-year-old travel ban to Cuba.
"I think that we finally reached a new watermark here on this issue," said Sen. Byron Dorgan, D-North Dakota, one of the bill's sponsors.
Sen. Richard Lugar, R-Indiana, another sponsor of the bill, issued a draft report in February that said it was time to reconsider the economic sanctions. Lugar is the ranking Republican on the Senate Foreign Relations Committee.
- CNN's Jim Acosta, Elise Labott, and Suzanne Malveaux contributed to this report
(updated 1 pm ET)