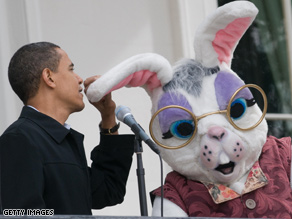 The president shares a moment with the Easter Bunny at today's White House Egg Roll.
WASHINGTON (CNN) - The Obamas celebrated their first spring at 1600 Pennsylvania Avenue on Monday by hosting one of the oldest presidential traditions - the annual White House Easter egg roll.
More than 4,000 area schoolchildren were estimated to take part in the festivities on the White House South Lawn, which kicked off with a joint appearance by the first family and the Easter bunny on the residence's famous Truman Balcony.
"This is one of our greatest White House traditions, because it reminds us that this is the people's house," President Barack Obama told the crowd.
Watch: President Obama hosts the White House Easter egg roll
"To see so many children out here having a great time just fills Michelle and myself and our entire family with a whole lot of joy."
The president later read the children's classic "Where the Wild Things Are" to approximately 40 kids.
Attendees rolled eggs on the South Lawn and played basketball and four-square on the White House tennis court, among other things.
The Easter egg roll dates to 1878 as an annual celebration of the start of spring, according to the White House Web site.