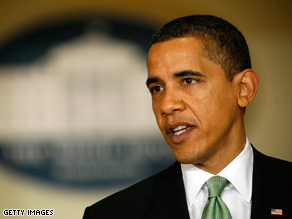 The president will speak about the economy in a Tuesday speech at Georgetown's Gaston Hall.
WASHINGTON (CNN) - President Obama plans to give what the White House is describing as a "major speech on the economy" tomorrow morning at Georgetown University.
"The President will discuss how each step his administration has taken to confront this economic crisis fits within his broader vision of how we move this economy from recession to recovery and ultimately to prosperity. He'll also talk about the significant work that remains to be done to get the economy moving forward once again," according to the White House.
Earlier: 'Glimmers of hope' in the economy, says Obama