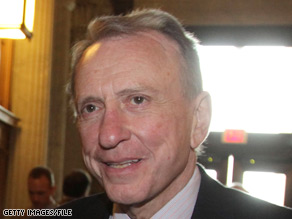 Sen. Arlen Specter is facing another challenge from Pat Toomey.
WASHINGTON (CNN) – Former Rep. Pat Toomey announced Monday he is taking steps to challenge incumbent Sen. Arlen Specter in 2010, setting up a primary rematch between the two Republicans with ideological differences.
"Very soon, I intend to announce my candidacy for the United States Senate in a Republican primary challenge against Arlen Specter," Toomey said in an e-mail Monday to members of the Club for Growth, telling them of his decision to resign as president of the organization.
Toomey, who unsuccessfully ran against Specter in 2004, criticized his fellow Republican for supporting the "liberal agenda" because he did not help the GOP minority uphold the filibuster on every issue. "I personally believe that it is time for him to go," Toomey wrote in the e-mail.
Expecting a challenge, Specter ran a 30-second campaign TV ad earlier this month that criticized Toomey for his experience as a Wall Street trader, and his views on financial and economic policy matters.
On Monday, he took the same message to Twitter. "Toomey's 2 resumes. What's he hiding?" he wrote. He linked to an open letter that suggested Toomey was looking to hide his background in the financial industry.
A Quinnipiac University survey of registered Pennsylvania voters released late last month suggests Specter trails conservative Toomey in a hypothetical Republican primary matchup by a 41 to 27 percent margin, with 28 percent unsure. But a Franklin and Marshall College poll released the same day indicates that Specter leads Toomey 33 percent to 18 percent, with 7 percent for other candidates and 42 percent unsure. While the Franklin and Marshall survey suggests that Specter leads in the matchup, 51 percent of Republicans questioned in that poll say they'd rather see a fresh face in the Senate.
Toomey did not indicate in his letter when he would make his Senate bid official. He will be replaced at the Club for Growth by former GOP Rep. Chris Chocola.