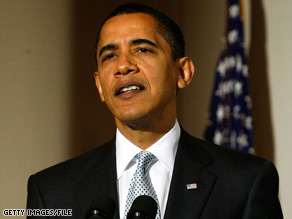 Fifty-eight percent of people polled say President Obama has a plan for tackling the economic crisis.
WASHINGTON (CNN) - Hours before President Barack Obama on Tuesday morning delivers what the White House calls a major speech on the economy, a new national poll indicates that nearly six in 10 Americans think he has a clear plan for solving the country's economic problems.
Fifty-eight percent of people questioned in a CNN/Opinion Research Corporation survey released Tuesday morning say Obama has a clear plan to deal with the recession. That's more than double the 24 percent who think that Republicans in Congress have a clear plan on the economy. Nearly three in four polled say the GOP doesn't have a clear economic plan.
"Not surprisingly, Republicans don't think that Obama has a clear plan for economic recovery," said CNN Polling Director Keating Holland. "But Republicans also don't think that the GOP leaders in Congress have a clear plan either. Only 36 percent of Republicans nationwide believe that the GOP leadership has a clear plan; six in 10 Republicans don't feel that way."
Listen: Polling Director Keating Holland breaks down the results for CNN Radio


After Democrats accused the GOP of being the party of no ideas, congressional Republicans introduced alternative budget proposals last month.