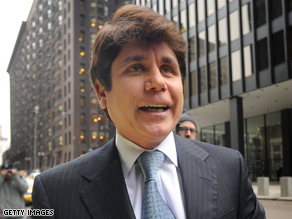 Blagojevich has inked a deal to appear on an NBC reality show, if a judge allows.
(CNN) - Former Illinois Gov. Rod Blagojevich's career as a politician appears to be over, but a new career in the world of reality television could just be beginning.
The impeached former governor has inked a deal to appear on an NBC celebrity-themed reality show, assuming a federal judge allows him to travel as his criminal charges remain pending, the network said in a statement.
The upcoming show, called I'm a Celebrity, Get Me Out of Here!, pits 10 celebrities in a Costa Rican village for a month while they battle each other in competitions and put their survival skills to the test. The show will air nightly and viewers will have the final say on which celebrities have to go home early.
According to the Chicago Tribune, the financially-strained Blagojevich stands to make $80,000 a week for his appearance on the show. Blagojevich's attorney will soon make a formal request that the former governor be allowed to travel outside of the country for the gig, the Tribune also reported.
An ill-fated earlier iteration of the show ran on ABC six years ago, when the celebrity cast included Melissa Rivers, Bruce Jenner, and Tyson Beckford. Chris Judd, the onetime husband of Jennifer Lopez, won the competition that year. The show drew little attention then and was not renewed.
Blagojevich, who was impeached and removed from office earlier this year, pleaded not guilty to federal corruption charges Tuesday. A federal grand jury indicted him this month on 16 felony counts, including racketeering, conspiracy, wire fraud and making false statements to investigators.i