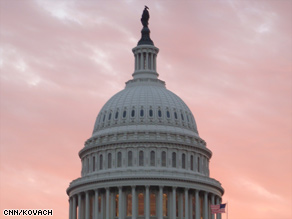 The CNN Washington Bureau's morning speed read of the top stories making news from around the country and the world.
WASHINGTON/POLITICAL
For the latest political news: www.CNNPolitics.com.
CNN: Pirates attack U.S. cargo ship but fail to get aboard
The Liberty Sun, a U.S.-flagged cargo ship bound for Mombasa, Kenya, was attacked Tuesday night by Somali pirates, according to the company and senior U.S. military officials.
CNN: Obama administration opens door for Iran
One of the main stumbling blocks to talk with Iran has been the condition that Iran suspends its uranium enrichment. Now, the Obama administration may take that option off the table, at least for now.
CNN: Pentagon looks to move battle against pirates ashore
As the Defense Department weighs options to prevent a repeat of the drama that unfolded on the seas this weekend, those who patrol the waters say pirates must be rooted out before they leave land.
CNN: First dog Bo meets White House press corps
Bo the Portuguese water dog made his White House debut under cloudy skies Tuesday afternoon, spending several minutes taking his new family on a lively romp over the South Lawn with frequent stops for hearty sniffs at his new surroundings.
CNN: New York governor to propose legalizing same-sex marriage
Gov. David Paterson will announce plans Thursday to introduce same-sex marriage legislation in the state Assembly, according to an assemblyman who was asked to be present for the announcement.
Washington Post: At Summit of Americas, U.S. May Face World of Blame for Economy
President Obama plans to take his message of partnership to Latin America and the Caribbean this week, but he will face a group of leaders far less forgiving than their European counterparts were about the United States' central role in the global financial crisis.