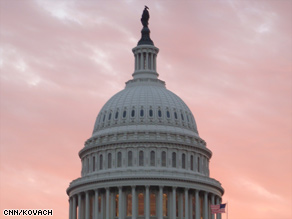 The CNN Washington Bureau's morning speed read of the top stories making news from around the country and the world.
WASHINGTON/POLITICAL
For the latest political news: www.CNNPolitics.com.
CNN: Pirates attack U.S. cargo ship but fail to get aboard
The Liberty Sun, a U.S.-flagged cargo ship bound for Mombasa, Kenya, was attacked Tuesday night by Somali pirates, according to the company and senior U.S. military officials.
CNN: Obama administration opens door for Iran
One of the main stumbling blocks to talk with Iran has been the condition that Iran suspends its uranium enrichment. Now, the Obama administration may take that option off the table, at least for now.
CNN: Pentagon looks to move battle against pirates ashore
As the Defense Department weighs options to prevent a repeat of the drama that unfolded on the seas this weekend, those who patrol the waters say pirates must be rooted out before they leave land.
CNN: First dog Bo meets White House press corps
Bo the Portuguese water dog made his White House debut under cloudy skies Tuesday afternoon, spending several minutes taking his new family on a lively romp over the South Lawn with frequent stops for hearty sniffs at his new surroundings.
CNN: New York governor to propose legalizing same-sex marriage
Gov. David Paterson will announce plans Thursday to introduce same-sex marriage legislation in the state Assembly, according to an assemblyman who was asked to be present for the announcement.
Washington Post: At Summit of Americas, U.S. May Face World of Blame for Economy
President Obama plans to take his message of partnership to Latin America and the Caribbean this week, but he will face a group of leaders far less forgiving than their European counterparts were about the United States' central role in the global financial crisis.
Al Jazeera: Guantanamo detainee claims abuse
An inmate in the US prison facility at Guantanamo Bay, Cuba, has told Al Jazeera that he has been beaten while in custody and had tear gas used on him after refusing to leave his cell.
WSJ: Obama Tilts to CIA on Memos
The Obama administration is leaning toward keeping secret some graphic details of tactics allowed in Central Intelligence Agency interrogations, despite a push by some top officials to make the information public, according to people familiar with the discussions.
WSJ: Banks Await Stress-Test Results
The Obama administration is considering making public some results of the stress tests being conducted on the country's 19 largest banks, said people familiar with the matter, a move that could help more clearly separate healthy banks from the weaklings.
NYT: Education Standards Likely to See Toughening
President Obama and his team have alternated praise for the goals of President George W. Bush's No Child Left Behind law with criticism of its weaknesses, all the while keeping their own plans for the law a bit of a mystery.
The Weekly Standard: The Pauper Option
Democrats frequently claim that government-run health care is more affordable than privately run health care. Too often, Republicans don't challenge this wild assertion. If they don't start doing so, the costs will likely be extraordinary–both to Americans' finances and to their freedom.
McClatchy: After lapses, Justice orders retraining for its prosecutors
Attorney General Eric Holder launched a wide-ranging review Tuesday of his lawyers' compliance with evidence-sharing rules in response to a federal judge's scathing criticism of prosecutors' conduct in the corruption trial of former Alaska Sen. Ted Stevens.
Washington Post: Obama: Economy Gaining Traction
The president and the Federal Reserve chairman voiced cautious optimism yesterday that the economy could be beginning to stabilize. But the economy wasn't cooperating.
LA Times: Palin sees gas drilling as step to curb global warming
Alaska Gov. Sarah Palin acknowledged Tuesday that global warming was harming her state but said stepped-up natural-gas production could mitigate its effects.
US News & World Report: Is the GOP Waving Bye-Bye to Sarah Palin?
Worse than Dan Quayle before her, Alaska Gov. Sarah Palin's bright star has fast faded in the eyes of Washington Republican officials and analysts, calling into question her efforts to become a national party figure ready to run for the White House. "She's just not ready for prime time," said a party strategist who has worked for former President Bush. "I mean, she's starting to look like she's having trouble being governor of Alaska." At issue is her weak debut, hampered by the mishandling of her by Sen. John McCain's campaign, and subsequent family issues such as the most recent tiff with Levi Johnston, the father of her first grandchild and ex-fiancé of her daughter Bristol.
Seattle Times: 9.2% unemployment "troubling" for state
Washington's economy is deteriorating at a pace not seen since modern record-keeping began more than three decades ago, according to the latest state jobs report.
Providence Journal: Gun sales spike in R.I. — on pace to hit 50% increase over 2008
Gun sales in Rhode Island spiked during 2008 to their highest level in at least a decade as firearms purchases in the state mimicked a national trend.
NATIONAL
For the latest national news: www.CNN.com.
CNN: Right-wing extremism may be on rise, report says
Right-wing extremist groups may be using the recession and the election of the nation's first African-American president to recruit members, a Department of Homeland Security report contends.
CNN: NASA names cosmic treadmill after Colbert
What do you do when you're NASA and comedian Stephen Colbert wins your contest to name the new wing for the International Space Station? You name an orbital exercise machine after him.
CNN: Auction of Michael Jackson items called off
The controversial auction of Michael Jackson's property from his Neverland ranch has been canceled, and all of the items will be returned to Jackson, the auction organizer said.
Washington Post: A Racial Shift in Drug-Crime Prisoners
For the first time since crack cocaine sparked a war on drugs 20 years ago, the number of black Americans in state prisons for drug offenses has fallen sharply, while the number of white prisoners convicted for drug crimes has increased, according to a report released yesterday.
Financial Times: Hackers escalate thefts of financial data
Computer hackers stole more sensitive records last year than in the previous four combined, with ATM cards and PIN information growing in popularity as targets, according to a study released on Tuesday.
NYT: Governor to Offer Bill to Allow Gay Marriage
Gov. David A. Paterson plans to introduce legislation on Thursday to make marriage between same-sex couples legal in New York, advancing his push for greater rights for gay men and lesbians, at a time when other states have done so.
LA Times: Illegal immigration slowdown in California
In five years of social outreach at Our Lady Queen of Angels church in Los Angeles, Guillermo Armenta has always seen more parishioners stream into this historic haven for illegal immigrants than leave. Until now.
USA Today: Report: Most illegal immigrants' kids are U.S. citizens
Nearly three-quarters of illegal immigrants' children were born in the USA and are citizens, according to a report released Tuesday.
NYT: Insurance Lags as Cancer Care Comes in a Pill
Chuck Stauffer's insurance covered the surgery to remove his brain tumor. It covered his brain scans. And it would have paid fully for tens of thousands of dollars of intravenous chemotherapy at a doctor's office or hospital.
LA Times: L.A. Unified moves to cut 5,000 teachers and others
Los Angeles school district officials moved forward Tuesday with plans to lay off more than 5,000 teachers, counselors, custodians, clerks and other employees, but the battle over funding will rage on for weeks - affecting who goes, who stays and what schools and classrooms will look like for students next year.
NYT: Study Says a Rule Is Misused on Latinos
Many police officers in New Jersey are misusing a 2007 directive by the state's attorney general by questioning the immigration status of Latino drivers, passengers, pedestrians and even crime victims, reporting them to federal immigration authorities and jailing some for days without criminal charges, according to a Seton Hall Law School study.
INTERNATIONAL
For the latest international news: http://edition.cnn.com/
CNN: U.S. decries N. Korea's 'provocative threats'
The White House on Tuesday upbraided North Korea, calling on the communist nation "to cease its provocative threats, to respect the will of the international community and to honor its international commitments and obligations."
CNN: Rights report cites abuses in Kurdish Iraq
The Kurdish region of Iraq has seen gains in human rights, but security forces "regularly abuse their authority" and women continue to be targets of violence, Amnesty International said Tuesday.
Bloomberg: North Korea Expels UN Inspectors After Ending Talks
North Korea ordered United Nations nuclear inspectors to leave the country "at the earliest possible time," and said it will end disarmament talks as well as resume the reprocessing of spent atomic fuel.
London Times: Bogus foreign students free to flout new laws
Thousands of bogus students remain free to enter Britain despite new laws aimed at tightening controls on immigration. The Times has learnt that hundreds of colleges recently approved by the Home Office to accept non-EU students have not been inspected by its officers.
NYT: As Elections Near, Tightrope Awaits in India
Skinny, weathered peasants gathered berries falling from a butter tree as Rahul Gandhi, heir apparent to the governing Indian National Congress, drove across these baked plains, part of a hectic campaign tour to pitch his party as champions of the poor.
WSJ: Solution to Japan's Jobless Problem: Send City Workers Back to the Land
Kenji Oshima lost his job in February at a seat-belt factory. So he applied for a highly competitive job-training program in an area he felt had more potential: farming.
Al Jazeera: Haiti asks for recovery aid
Michele Duvivier Pierre-Louis, the prime minister of Haiti, has urged the global community to do more for the impoverished Caribbean island at a donor conference in Washington DC.
Telegraph UK: Parents to be hit with penalties if children misbehave at school
A three-year Government study into classroom behaviour will call for greater use of parenting contracts for mothers and fathers failing to keep children in line and £50 penalties for those condoning truancy.
CS Monitor: What terrorist threat? In Indian elections, local issues dominate.
All politics may be local, but India is taking the notion to an extreme: Voters this week head into national elections with no national issues dominating campaigns. In the world's largest democracy, many will choose members of parliament more for their attention to potholes down the street than to Pakistan.
BUSINESS
For the latest business news: www.CNNMoney.com.
CNN: UBS to cut 9,000 more jobs
Switzerland's largest bank will shed nearly 9,000 more employees as it tries to recover from the global financial crisis, its CEO said Wednesday.
CNN: GM bonds: Big trouble for small investors
Harley VanDeloo, a 69-year old retiree in Thousand Oaks, Calif., has resigned himself to losing an important piece of his retirement income: interest payments from $25,000 worth of General Motors bonds.
NYT: Yahoo Is Said to Plan More Layoffs
Yahoo is planning a new round of layoffs, the first since Carol Bartz became chief executive in January, according to several people with knowledge of the situation.
Forbes: Ben Bernanke Wants Out
Federal Reserve chairman Ben Bernanke is seeing "tentative signs" of economic improvement, which makes it time for the central bank to begin talking about its exit strategy.
Newsweek: Bankers vs. Economists
Which profession bears more blame for the global credit meltdown and its ensuing gazillion-dollar bailouts: bankers or economists? This isn't a trick question.
Boston Globe: Black-owned bank has few urban loans
Calling itself and other minority-owned banks a "rare beacon of hope" in their neighborhoods, OneUnited Bank of Boston last fall made an emotional plea to the US Treasury for help with millions of dollars in soured investments.
Business Week: Intel Says PC Demand 'Bottomed'
The worst of the damage that has beset the PC industry is over, says Paul Otellini, chief executive of the world's biggest chipmaker, Intel (INTC).
In Case You Missed It
To watch the latest interviews and reporting: http://www.cnn.com/video.
CNN: Meet Bo the dog
The first family parades their new pet before the cameras. CNN's Joe Johns is watching the media rush.
CNN: Kutcher challenges CNN
Actor Ashton Kutcher says if he beats CNN to 1,000,000 Twitter viewers he will 'ding dong ditch' Ted Turner.
CNN: Cuban illegal migration down
As the U.S. makes it easier for Cuban-Americans to visit the island, many Cubans are heading the other way. Morgan Neill reports.