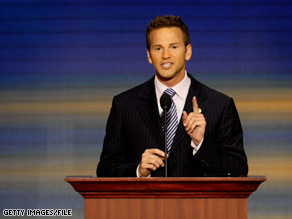 Illinois Republican Aaron Schock sat down recently with Details magazine.
WASHINGTON (CNN) – Illinois Republican Rep. Aaron Schock is hoping a recent magazine profile will help him in Washington's bustling social scene.
"'There's no line of young ladies at my door every morning,'" the 27-year-old congressman told Details in an interview for the magazine's May issue. But, "'[m]aybe when they read my Details profile . . .'" Schock added.
The young Republican has come from nowhere to become a rising star in the GOP in just a few months since becoming the youngest member of the 111th Congress.
Schock was voted "hottest freshman" by the readers of the liberal Huffington Post Web site. He was also showered with attention by President Obama, who was hoping to win the young congressman's vote for his $787 billion stimulus plan. (The freshman Republican hopped a ride on Air Force One with the commander-in-chief and attended a presidential town-hall-style event in Peoria, Illinois, but ultimately voted against the bill.)
And Meghan McCain, daughter of former Republican presidential hopeful Sen. John McCain, recently showered praise on Schock, suggesting that the young conservative might be the future of the GOP and calling him a "congressman-turned-TMZ hottie."
Related: TMZ focuses on Schock
With all that attention, the spotlight was inevitably bound to turn to his personal life – a subject he discussed with Details. "He's the only one of his siblings not married with children, and is similarly an outlier among friends," the profile says. "'I had a group of fix or six guys, and we hung and traveled – ski trips and stuff,'" Shock told the magazine. "'They slowly got picked off – married, married, married.'"

There is apparently so much pressure on the young, successful congressman to settle down, that his longtime friends are trying not to add to it, according to the magazine.
While he settles into life in Washington, the bachelor is keeping himself busy with lots of time at the House gym. Schock told the magazine he also enjoys listening to music – "'everything from Keith Urban to Justin Timberlake to Rihanna.'"