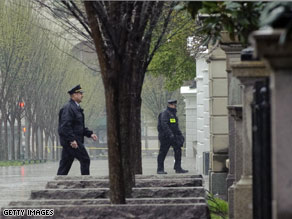 Uniformed members of the Secret Service are seen outside the White House after a suspicious package was tossed over the fence onto the White House grounds.
WASHINGTON (CNN) - Secret Service officers were scurrying to close the North Lawn of the White House Wednesday afternoon because of a suspicious package and it appeared that trouble was brewing.
But it turned out that nothing more was brewing than an innocent little box of, yes, tea bags.
The security alert started around 2 p.m. ET, when an unidentified person tossed the box over the gate of the White House and it landed on President Obama's lawn with a thud.
Journalists were quickly banned from moving outside of the press briefing room, and hundreds of protesters gathered for a "Tax Day Tea Party" were quickly shooed out of Lafayette Park as a security robot inspected the package closely.
After about a half hour of high alert, a Secret Service official told CNN the "suspicious package" was merely some tea bags. So the threat was over, and so was the anti-Obama protest.
Updated: 5:05 p.m.