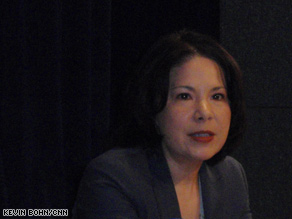 Nancy-Ann DeParle holds one of the two key administration positions that former Senator Tom Daschle was slated to fill as health care czar.
(CNN) - One of the women in charge of the Obama administration's efforts to change the nation's health care system said adding a plan offered by the government is preferable to a mostly-private insurance system, and told reporters a lot work is going on behind the scenes to help achieve the President's goal of passing a comprehensive plan this year.
"We're making a lot of progress," Nancy-Ann DeParle, director of the White House Office for Health Reform, told a roomful of about 60 journalists Wednesday.
DeParle, on the job for about a month, holds one of the two key administration positions that former Senator Tom Daschle was slated to fill as health care czar before he pilled out of consideration because of tax issues.
She has spent much of her time trying to build consensus among the many and diverse parties key to achieving such a massive overhaul: she has met with 40 members of Congress, sat down with a wide variety of interest groups in an effort to help build consensus, and traveled the country attending regional forums examining the nation's health care system.
Whether a final health care bill includes a new health insurance plan offered by the government in some form is one of the thorniest issues.
DeParle, who was speaking to a forum sponsored by the Kaiser Family Foundation, Families USA and the National Federation of Independent Business, deflected many of the specific questions of what would or would not be acceptable emphasizing President Obama is looking for something that includes the broad goals of broadening coverage and lowering costs.
"He wanted to make sure he could keep costs low, and a public plan is one way to do that," she said.
Among the various elements of a possible plan DeParle mentioned were having very low or nonexistent administrative fees, one not including outside brokers, having incorporating a similar payment rate as Medicare or one similar to state-offered plans that are operated by private insurers.(are these all different kinds of plans, or all possible elements of one plan?)
"There are different reads of public plan," DeParle said.
Dan Danner, president of the National Federation of Independent Business, is one of representatives involved in ongoing discussions about how to reach a consensus. He tells CNN the concern about offering a public plan is it could put private insurers at an unfair price disadvantage. "How do we get there without threatening the private system?" he asked.
While Congress is on its Easter recess, DeParle says active work is continuing to go on behind the scenes with congressional staff doing research on various aspects of the issue, drafting some specifications for what may be included and even beginning work on legislative language.
Unlike Clinton-era efforts, this administration is leaving the drafting of a specific bill to Congress. However, she said a small group of officials from the White House, Department of Health and Human Services and Office of Management and Budget are "vigorously engaged" with members and staff on issues and are providing "active technical assistance and guidance" to the staff regarding different policy ideas or initiatives as they are raised, though she did not provide specific examples.
"We are working together as a team," DeParle said.
Work should heat up as summer nears with the Senate Finance Committee planning to be the first panel to take up a bill in June. Towards that end Chairman Max Baucus and ranking Republican Charles Grassley are planning a series of forums on delivery reform, coverage and financing the next several weeks to help members delve into the issues.