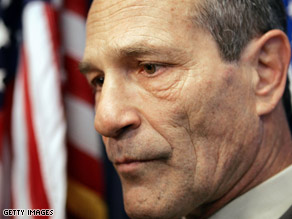 Join the conversation on Jack's blog.
As President Obama travels to Mexico, the U.S. continues to grapple with the spill over violence from Mexican drug cartels and the enormous problem of illegal immigration. So - in typical government style - the administration has decided to add another layer of bureaucracy in the hopes of solving these problems.
They've named a so-called "border czar" to oversee the efforts of ending drug cartel violence that killed almost 7,000 people last year; and slowing the tide of people illegally crossing north into the U.S. A border czar. Why don't they just close the damn border?
Homeland Security Secretary Janet Napolitano named Alan Bersin to be the czar. He's a former Justice Department official who worked on cracking down on illegal immigration in the 1990s. And judging by the number of illegal aliens in the country, that wasn't exactly a home run.
To read more and contribute to the Cafferty File discussion click here