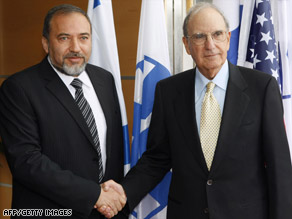 U.S. envoy George Mitchell, right, meets Israeli Foreign Minister Avigdor Lieberman on Thursday in Jerusalem.
JERUSALEM (CNN) - U.S. envoy George Mitchell was in Israel on Thursday for his first visit since right-wing politician Benjamin Netanyahu became prime minister.
It is Mitchell's third visit to the region since President Obama appointed him as special envoy for Middle East peace.
Mitchell plans to meet with Netanyahu and other Israeli politicians Thursday, as well as Palestinian leaders - including President Mahmoud Abbas - in the West Bank and Jerusalem on Friday.
The former senator and seasoned diplomat has not been shy in articulating the U.S. desire to see a two-state solution to the Israeli-Palestinian conflict, which has led to speculation that the new Israeli government and the Obama administration may find themselves on a collision course.