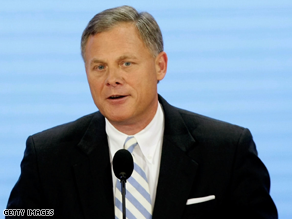 Burr is a top Democratic target in 2010.
(CNN) - North Carolina Sen. Richard Burr said Thursday he was merely reacting to the economic crisis last fall the way many Americans did when he advised his family to withdraw as much cash as they could from their bank accounts.
"There are individuals in this country who keep cash at home," Burr told the Charlotte News and Observer. "I don't happen to be one of those. I live from ATM machine to ATM machine. The reality is when you look at a financial industry that is not exchanging capital, it immediately says you better have a little bit of cash set aside."
The North Carolina Republican has taken heat this week after he told a gathering of business leaders in his home state that the collapse of major financial institutions last fall convinced him his family's bank accounts could have been frozen.
"On Friday night, I called my wife and I said, 'Brooke, I am not coming home this weekend. I will call you on Monday. Tonight, I want you to go to the ATM machine, and I want you to draw out everything it will let you take. And I want you to tomorrow, and I want you to go Sunday,'" Burr said during a speech at a Henderson County Chamber of Commerce meeting Monday.
National Democrats quickly seized on the comment, characterizing it as irresponsible at best and damaging at worst. But a NRSC spokesman defended the remark, telling CNN, "It's little wonder Americans want to keep their hard earned money away from the grips of Washington."
Clarifying his comments Thursday, Burr said its important to remember what the economic landscape looked like last fall when he pushed for the bank withdrawals.
"That was when the financial architecture of the industry was in jeopardy," he said. "It was when cash was frozen from institution to institution. The purpose of TARP was to stabilize that architecture to free up the flow of capital from bank to bank and bank to business.
"That part of the economic crisis is over."
Burr, whose approval ratings are languishing in recent state polls, is likely to face a difficult reelection race in 2010, though Democrats have yet to field a candidate.