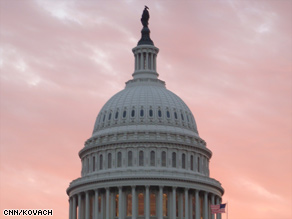 The CNN Washington Bureau's morning speed read of the top stories making news from around the country and the world.
WASHINGTON/POLITICAL
For the latest political news: www.CNNPolitics.com.
CNN: Bush-era interrogation memo: No torture without 'severe pain' intent
Interrogation tactics such as waterboarding, sleep deprivation and slapping did not violate laws against torture when there was no intent to cause severe pain, according to a Bush-era memo on the tactics released Thursday.
CNN: Ex-McCain aide to call for gay marriage support
Steve Schmidt, a key architect of John McCain's presidential campaign, is making his first public return to Washington a bold one.
CNN: Obama unveils high-speed passenger rail plan
President Obama unveiled his administration's blueprint for a new national network of high-speed passenger rail lines Thursday, saying such an investment is necessary to reduce traffic congestion, cut dependence on foreign oil and improve the environment.
CNN: Analysis: Don't expect deal with Mexico on assault weapons ban
President Obama visits Mexico with many issues on the table, but reinstating the ban on assault weapons in the U.S. isn't likely to be one on which the two countries can reach agreement.
CNN: Obama likely to get earful on Cuba at Americas summit
When President Obama arrives in Trinidad and Tobago this week for the Summit of the Americas, the one country in the region not present may be the one he hears the most about: Cuba.
Washington Post: Role of Bush NSA Plan Under Review
The Bush administration planned last year to direct the National Security Agency, which specializes in spying electronically on foreign adversaries, to take the techniques it has employed to defend military computer networks and use them to protect U.S. government civilian networks, according to current and former officials.
NYT: Obama Adviser Said to Be Tied to Pension Deal
The man leading the Obama administration's efforts to restructure the auto industry has been described in Securities and Exchange Commission documents as having arranged for his investment firm to pay more than $1 million to obtain New York State pension business.