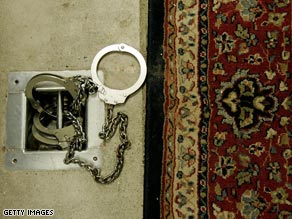 WASHINGTON (CNN) - Human rights organizations reacted angrily Thursday to the Obama administration's announcement that CIA officials would not be prosecuted for past waterboarding and other harsh interrogation tactics.
Attorney General Eric Holder made the announcement in a separate statement as the administration announced it was releasing four Bush-era memos on terror interrogations that included the controversial practice of waterboarding.
"The president has halted the use of the interrogation techniques described in these opinions, and this administration has made clear from day one that it will not condone torture," Holder said. "We are disclosing these memos consistent with our commitment to the rule of law."
The attorney general promised that officials who used the controversial interrogation tactics would be in the clear if their actions were consistent with the legal advice from the Justice Department under which they were operating at the time.