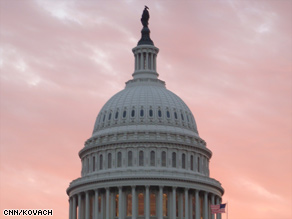 The CNN Washington Bureau's morning speed read of the top stories making news from around the country and the world.
WASHINGTON/POLITICAL
For the latest political news: www.CNNPolitics.com.
CNN: In CIA visit, Obama defends interrogation memo release
President Obama, visiting CIA headquarters Monday, defended his decision to release Bush-era memos on interrogation tactics, saying the country will ultimately be stronger as a result.
CNN: Preference for Hill over Zinni remains a mystery
Chris Hill is slowly overcoming GOP opposition that has delayed his nomination as U.S. ambassador to Iraq, but it's still unclear why the Obama administration revoked the offer they gave to someone else first — General Anthony Zinni.
CNN Poll: Americans still back Democrats, but not as much
As Congress comes back after a two-week recess, a national poll indicates the honeymoon may be over for congressional Democrats, although they maintain a decided advantage over the GOP.
CNN: Cheney: 'I don't think we've got much to apologize for'
The former vice president Dick Cheney is slamming President Obama's efforts to set a new tone for relations with the U.S. on the world stage.
WSJ: Computer Spies Breach Fighter-Jet Project
Computer spies have broken into the Pentagon's $300 billion Joint Strike Fighter project - the Defense Department's costliest weapons program ever - according to current and former government officials familiar with the attacks.
NYT: Lawmaker Is Said to Have Agreed to Aid Lobbyists
One of the leading House Democrats on intelligence matters was overheard on telephone calls intercepted by the National Security Agency agreeing to seek lenient treatment from the Bush administration for two pro-Israel lobbyists who were under investigation for espionage, current and former government officials say.
Washington Post Op-Ed: Thiessen: The CIA's Questioning Worked
In releasing highly classified documents on the CIA interrogation program last week, President Obama declared that the techniques used to question captured terrorists "did not make us safer." This is patently false. The proof is in the memos Obama made public - in sections that have gone virtually unreported in the media.
Chicago Tribune: Obama, as with Roosevelt, off to a quick start
If it seems arbitrary — even unfair — to take the measure of a new president after just 100 days in office, you can blame Franklin D. Roosevelt.
NYT: Programs to Help Banks Are Seen as Open to Fraud
The Treasury Department's most ambitious plans to rescue troubled banks — partnerships between the government and private investors, backed by the Federal Reserve — are inherently vulnerable to fraud and should not be started without stronger safeguards, a top government investigator warned in a report to be released Tuesday.
Washington Post: U.N. Launches Library Of World's Knowledge
A globe-spanning U.N. digital library seeking to display and explain the wealth of all human cultures has gone into operation on the Internet, serving up mankind's accumulated knowledge in seven languages for students around the world.
LA Times: 20 bank-bailout investigations already open
In the first major disclosure of corruption in the $750-billion financial bailout program, federal investigators said Monday they have opened 20 criminal probes into possible securities fraud, tax violations, insider trading and other crimes.
Washington Post: Border Agency to Hire More Army Reservists
The Army Reserve and U.S. Customs and Border Protection will sign an agreement today to create a partnership aimed at filling some of the growing federal agency's 11,000 job openings with Army reservists.
CNN: Obama to headline DSCC/DCCC fundraiser
President Obama will host a fundraiser for the Senate and congressional campaign committees in June, a Democratic Party source tells CNN.
NATIONAL
For the latest national news: www.CNN.com.
CNN: Alleged Maersk pirate arrives in New York
The pirate suspect arrested in the hijacking of the Maersk Alabama was all smiles on arriving in New York City late Monday, escorted by a phalanx of law enforcement officers.
CNN: College student charged in slaying possibly linked to Craigslist
A 22-year-old college student in Boston, Massachusetts, has been charged with murder in connection with the death of a woman who may have been contacted through a Craigslist ad, police said.
CNN: High-end coffee business slows during recession
The high-end specialty coffee industry isn't immune to the effects of a recession, but many companies are still doing well.
CNN: Officials suspect drug reaction or toxins in Florida horse deaths
State officials said Monday that they suspect a drug reaction or toxins killed 21 horses as they were prepared to compete in a Sunday polo match in Wellington, Florida.
WSJ: Cash-Strapped Cities Try Private Guards Over Police
Facing pressure to crack down on crime amid a record budget deficit, Oakland is joining other U.S. cities that are turning over more law-enforcement duties to private armed guards.
USA Today: On road, it's 'do as I say, not as I do'
Most motorists in the USA — 78% — call aggressive driving a serious concern yet nearly half admit speeding on major highways in the past 30 days, according to a survey and analysis of research made public today by the AAA Foundation for Traffic Safety.
LA Times: Drug cartels keep Catholic officials in fear
In the tense state of Durango, Roman Catholic Archbishop Hector Gonzalez announced over the weekend that the fugitive drug trafficker who tops Mexico's most wanted list was living nearby.
BBC: Fears over web health revolution
Concerns have been raised about the use of the internet and new technologies to revolutionise health care.
Telegraph UK: Obesity threat to individuals and planet
Researchers concluded that because food production is a major contributor to global warming, the more you eat, the greater the impact on climate change.
USA Today: Phone application helps traveler make the right diet calls
Last fall, Chris Burns, 34, of Chicago made a small investment and got a big return in weight loss.
INTERNATIONAL
For the latest international news: http://edition.cnn.com/
CNN: Envoys walk out of U.N. anti-racism conference
Dozens of international envoys walked out during a speech by Iran's president Monday as he accused Israel of having a "racist government" and committing genocide.
CNN: Koreas hold first talks in more than a year
Government officials from South Korea arrived in the North on Tuesday for the first inter-Korean talks in more than a year.
CNN: U.S. generals gauge where fight in Afghanistan is headed
Sending 21,000 more troops to Afghanistan is the centerpiece of the Obama administration's strategy for winning there . Commanders say victory is achievable, but those in the field expect a long road ahead.
Jerusalem Post: PM: We won't allow another Holocaust
The State of Israel paused on Monday night at 8 p.m. to remember the six million Jews who perished from 1933-1945, as the nation marked the start of Holocaust Remembrance Day.
Times of India: PowerGrid plans to raise Rs 3k cr via fresh issue
India's largest power distributor Power Grid Corporation of India plans to raise up to Rs 3,000 crore by issuing fresh shares by year end at a time when most companies dread the stock market.
Times of London: Iraqi children trained by al-Qaeda to be suicide bombers
Iraqi security forces have arrested four children who were allegedly part of a group of youngsters being groomed by al-Qaeda to become suicide bombers, an Iraqi army general said.
LA Times: Visa rules widen the rift between Vietnam and U.S. families
Luong Vu asks his daughter the same question each time she visits his Westminster hospital room: "When are my sons coming?"
BBC: EU commission urges fishing cuts
The EU has far too many fishing boats, and major cuts are needed to make fishing sustainable, according to the European Commission.
BUSINESS
For the latest business news: www.CNNMoney.com.
CNN: Banks: Let us return the money
One might think the government would automatically embrace requests from several of the nation's largest banks to return the bailout money they received last fall. Not so fast. JPMorgan Chase, Morgan Stanley and at least four other others have indicated they would like to return the almost $95 billion they jointly get in TARP (Troubled Assets Relief Program) funds.
CNN: TARP cop: 20 criminal probes
The top cop tracking the government's $700 billion bailout program said Tuesday that he has opened 20 criminal investigations and six audits into whether tax dollars are being pilfered or wasted.
CNN: Chrysler financing arm rejects U.S. aid
Chrysler Financial turned down additional government funding this month because executives at the financing arm of the troubled auto manufacturer could not agree to new government-mandated limits on executive pay, according to a source familiar with the matter.
NYT: China Influence Grows With Car Sales
After a century in which American tastes largely set the course of the global automotive market, China is poised to increasingly take on the role of global trendsetter.
Bloomberg: Audit Says U.S. Estimated $900 Million Loss on Citigroup Assets
The U.S. Treasury estimated $900 million in losses as of the end of last year on $301 billion in Citigroup Inc. assets that the government is guaranteeing, according to a new audit report released today.
Business Week: United Airlines Weighs In on 'Seat Infringement'
The cattle-car quality of air travel is getting even less comfortable for some plus-size passengers. United Airlines (UAUA) on Apr. 15 announced it will require passengers who do not fit within one seat to buy another when no alternative can be arranged. And Euro-discounter Ryanair (RYAAY) is advancing the idea of a fat tax, which suggests to many observers the company may price its tickets based on body mass.