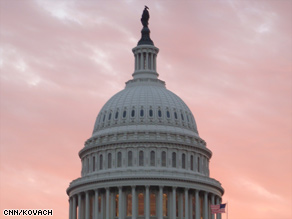 The CNN Washington Bureau's morning speed read of the top stories making news from around the country and the world.
WASHINGTON/POLITICAL For the latest political news: www.CNNPolitics.com.
CNN: Memo: Obama's Intel Director said interrogations yielded "high value" Info
In a previously undisclosed private memo, President Obama's intelligence director told colleagues that enhanced interrogation techniques used by the Bush administration yielded important information that helped America deal with the threat of terrorism.
CNN: Back to where it began: Obama revisits Iowa
Barack Obama heads to Iowa Wednesday, his first visit as president to the state that gave him his first victory in a long battle for the White House.
CNN: Harman: Alleged wiretap an 'abuse of power'
A key Democrat who reportedly was overheard on a National Security Agency wiretap discussing a deal with a suspected Israeli agent has called the wiretap an "abuse of power."
CNN: Borger: A little outrage, please, Mr. President
Inside the White House, the expectation was that the president's Latin American excursion would not be as much of a home run as his European economic summit. After all, he's less popular in that part of the world.
CNN: U.S. Senate confirms Hill as top envoy to Iraq
The U.S. Senate confirmed veteran diplomat Christopher Hill as U.S. ambassador to Iraq on Tuesday, voting 73-23 to put Hill in charge of the largest U.S. embassy in the world.
CNN: Shirtless Obama to appear on magazine cover
It's not every day a President of the United States lands shirtless on a magazine cover.
WSJ: New Military Command to Focus on Cybersecurity
The Obama administration plans to create a new military command to coordinate the defense of Pentagon computer networks and improve U.S. offensive capabilities in cyberwarfare, according to current and former officials familiar with the plans.