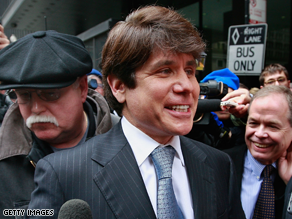 Blagojevich is said he is still looking for TV deals.
(CNN) - Ex-Illinois Gov. Rod Blagojevich said Wednesday he is just trying to support his family - and if that means eating bugs on a television reality show, so be it.
"I have to support my children and my family and if that means going into the jungle and having to east some bugs, it's just a testament to how much I love my kids," he told NBC Thursday about the upcoming program, "I'm a Celebrity, Get me out of Here!," in which he was hoping to play a part.
The upcoming show plans to pit 10 celebrities in a Costa Rican village for a month while they battle each other in competitions and put their survival skills to the test. It will air nightly and viewers will have the final say on which celebrities have to go home early.
In the interview with NBC, Blagojevich said he was approached to be a cast member and thought it was an "exciting opportunity."
"The idea of being in the jungle toughening it out and creating a little civil society with other people and seeing you can govern that little society is not that unlike when I was governor of the fifth-largest state in America," he said.
Blagojevich stood to collect about $80,000 every week he survived on the show, according to reports.
But U.S. District Court Judge James Zagel said earlier this week he would not lift the travel restrictions imposed when the former governor was indicted on federal corruption charges.
Zagel, in a Tuesday morning hearing, called the former governor's participation in the show "a bad idea," and suggested Blagojevich find another way to earn money.