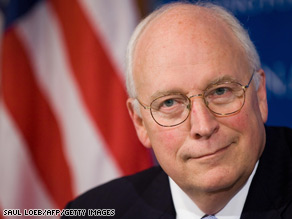 Join the conversation on Jack's blog.
Dick Cheney is at it again. This time the former vice president is criticizing Pres. Barack Obama on the economy. Cheney tells the F-word network that the president's expansion of the federal government into the financial sector is likely to have "devastating" long-term effects.
He says he's "very concerned" about where the Obama administration is taking the country economically. Cheney adds that there doesn't seem to be any kind of limits on spending - this coming from a member of the administration that more than doubled the national debt in eight years and gave $700 billion to Wall Street with virtually no questions asked.
Cheney said beyond growing deficits, he questions if the White House is redefining the relationship between government and the private sector. These comments are just the latest in a string of criticism aimed at the sitting president.
To read more and contribute to the Cafferty File discussion click here