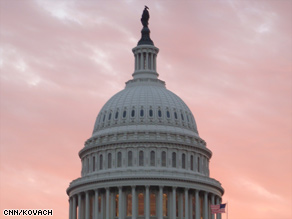 The CNN Washington Bureau's morning speed read of the top stories making news from around the country and the world.
WASHINGTON/POLITICAL For the latest political news: www.CNNPolitics.com.
CNN: Pelosi now says she was told Harman was picked up on wiretap
House Speaker Nancy Pelosi said Wednesday she had been informed that Rep. Jane Harman had been picked up on a wiretap — after Tuesday telling reporters she didn't know.
CNN: Obama misreads Cuban offer, Fidel Castro says
President Obama misinterpreted Cuban President Raúl Castro's offer to start talks with the United States, Castro's brother Fidel said Wednesday, appearing to dismiss the U.S. leader's call for Cuba to release political prisoners.
CNN: FEMA to remain within DHS, nominee says
The man tapped to head the Federal Emergency Management Agency says the agency will remain under the Department of Homeland Security. But it was not immediately clear if nominee Craig Fugate was representing only his personal opinion or administration policy.
CNN: Obama announces plan to lease federal waters for clean energy
President Obama marked Earth Day Wednesday by announcing a new initiative to lease federal waters for the purpose of generating electricity from wind and ocean currents.
NYT: U.S. May Fill Afghan Civilian Posts With Military Personnel
The Obama administration is finding that it must turn to military personnel to fill hundreds of posts in Afghanistan that had been intended for civilian experts, senior officials said Wednesday.
Washington Post: Probe Into Auto Adviser's Firm Expands
Government officials are expanding their investigation of Quadrangle, the private-equity firm founded by the Obama administration's lead auto negotiator, as new details emerge about an alleged kickback scheme involving the New York state pension fund.
WSJ: Banks Get New Offer for Debt in Chrysler
The U.S. Treasury, in an escalating back-and-forth that may determine whether Chrysler LLC avoids liquidation, has quickly responded to Chrysler lenders that rejected an earlier Treasury bid to slash the car maker's debt.
Washington Post: Obama's Cyber Czar Offers Few Details on Govt. Strategy
Those who were hoping to hear details today about how the Obama administration plans to revamp the government's approach to cyber security threats may have to wait a little while longer.
Dallas Morning News Op-Ed: Leubsdorf: What 100-day assessments can't say
Why wait the whole 100 days? Barack Obama had barely taken office when cable channels began touting their coverage of "Obama's first 100 days." It was just 89 days into his term when the Los Angeles Times began its three-part assessment of those 100 days.
Bloomberg: New Mexico Governor Raised $197,300 From Brokers
New Mexico Governor Bill Richardson's campaigns and political action committees received at least $102,300 from brokers hired by money managers seeking to handle $11.7 billion of state trust funds, campaign finance records show.
Financial Times: Obama pressed to back torture investigation
President Barack Obama on Wednesday came under increased pressure to back an investigation into use of torture by the US, after a Senate report accused the military of systematic abuse of detainees under George W. Bush's administration.
Chicago Tribune: Campaign finance: Money's influence not easily curbed
Here's one more irony from the downward spiral of Rod Blagojevich: The former governor, brought down by an insatiable hunger for campaign cash, could have played by tight fundraising rules and still had plenty left over to clobber rivals.
WSJ Op-Ed: Rove: The President's Apology Tour
President Barack Obama has finished the second leg of his international confession tour. In less than 100 days, he has apologized on three continents for what he views as the sins of America and his predecessors.
WSJ Op-Ed: Rep. Hoekstra: Congress Knew About the Interrogations
Director of National Intelligence Dennis Blair got it right last week when he noted how easy it is to condemn the enhanced interrogation program "on a bright sunny day in April 2009." Reactions to this former CIA program, which was used against senior al Qaeda suspects in 2002 and 2003, are demonstrating how little President Barack Obama and some Democratic members of Congress understand the dire threats to our nation.
NATIONAL
For the latest national news: www.CNN.com.
CNN: Army: 3 vials of virus samples missing from Maryland facility
Missing vials of a potentially dangerous virus have prompted an Army investigation into the disappearance from a lab in Maryland.
CNN: Scrutiny in horse deaths falls on vitamins
The captain of a polo team at the center of the mysterious deaths of 21 horses told an Argentine newspaper that he has "no doubts" vitamins administered to the animals by a laboratory are at fault.
CNN: Transgender murder, hate crime conviction a first
A Colorado man was convicted of first-degree murder and a bias-motivated crime and sentenced to life in prison for killing a transgender teen he met on an online social networking site.
NYT: Justices Explore Role Race May Play in Employment
The Supreme Court tried on Wednesday to identify the lines employers may not cross in taking account of race in hiring and promotion.
LA Times: Tennessee financial advisor is indicted in TARP-related Ponzi scheme
In the first criminal case related to the banking bailout, a Tennessee financial advisor was accused Wednesday of operating a multimillion-dollar Ponzi scheme that lured investors, in part, by promising that their investments would go into debt backed by the federal government's $750-billion rescue program.
WSJ: Demand for Charter Schools Is High, Seats Are Few
The waiting lists for charter schools, already notoriously long, look like they are about to get longer.
USA Today: Fewer people relocate for better opportunities
The housing crisis has dramatically eroded Americans' ability to move, driving the custom of relocating for better opportunities to its lowest level since the Census Bureau began tracking it in 1948, data released Wednesday show.
NYT: Study Cites Dire Economic Impact of Poor Schools
The lagging performance of American schoolchildren, particularly among poor and minority students, has had a negative economic impact on the country that exceeds that of the current recession, according to a report released on Wednesday.
The Guardian UK: Human cloning claims condemned by leading scientists
A maverick fertility expert who claims to be able to clone human beings has been condemned by other scientists for unethical practices that would be likely to lead to a damaged baby if they succeeded at all.
WSJ: Bidding Wars Are Emerging on Foreclosures
Falling home prices are starting to ignite bidding wars in a few parts of the U.S. as first-time buyers compete with investors for the same foreclosed properties.
Boston Globe: Heyday gone, granite artisans in N.H. carve a out new niche
They call it "The Granite Town," and it is, in some ways, the figurative capital of the Granite State. Once it boasted 15 quarries, which produced blocks that adorned buildings in Boston and across New England.
WSJ: Texas Moves to Foster Solar Power
The Texas state legislature is expected to soon approve one of the largest subsidy programs for solar-power in the U.S.
CS Monitor: New York considers landmark environmental code
The Big Apple wants its skyscrapers to turn greener. That's greener in terms of the environment, not in terms of money.
INTERNATIONAL
For the latest international news: http://edition.cnn.com/
CNN: Abu Ghraib head finds vindication in newly released memos
She said she was a scapegoat. She said she was just following orders. She said she was demoted unfairly.
CNN: IMF: World economy won't recover until 2010
World economy - better luck next year.
CNN: Clinton: Pakistan in danger
U.S. Secretary of State Hillary Clinton warned that Pakistan is in danger of falling into terrorist hands because of failed government policies and called on Pakistani citizens and expatriates to voice more concern.
Jerusalem Post: Israel to urge China to pressure Iran
China's oil and natural gas imports from Iran could be jeopardized in the future if pressure does not increase on the Islamic republic to cease its nuclear program and a military confrontation ensues, Israeli officials will tell China's foreign minister, The Jerusalem Post has learned.
LA Times: In Iraq, a story of rape, shame and 'honor killing'
Sometimes, it's the forbidden stories, the ones people are afraid to tell in full, the ones that emerge only in fragments, that reveal the truth about a place.
Times of London: Red all over: Chancellor reads last rites over New Labour
Alistair Darling read the last rites over new Labour yesterday by saddling Britain's highest earners with a new 50 per cent tax rate as he struggled to dent a £1.4 trillion mountain of debt.
BBC: Bolivia leader backs plot probe
Bolivian President Evo Morales has told the BBC he would be happy for there to be an international investigation into an alleged plot to assassinate him.
Business Week: Why Iran Is Hungry for More U.S. Business
Nestled in rocky hills about 40 minutes from Tehran, Pardis Technology Park is supposed to be Iran's answer to Silicon Valley. But these days, Pardis is deserted and forlorn, with many buildings standing unfinished, their exposed girders rusting. Foreign companies are reluctant to invest in the Islamic Republic, and domestic outfits are cash-strapped.
BUSINESS
For the latest business news: www.CNNMoney.com.
CNN: Obama in credit card face-off
Ramping up his campaign to crack down on credit cards, President Obama will meet Thursday with executives of 14 leading companies to press his case for new consumer protections.
CNN: What's next for banks? Nobody knows
Are banks in better shape now than they were before the government started injecting gobs of capital into them?
Newsweek: Main Street Money
The funny thing is, Chuck Welter never wanted to be a banker in the first place. He had been there, done that, and boy, was it dull. When Welter started as a trainee at the Indiana National Bank, banking was so heavily regulated it became known as the 3-6-3 club, he recalls: "You paid 3 percent on savings, you charged 6 percent for loans and you were on the tee at 3 o'clock." This was the early '70s. After a year drowsing over his work, Chuck found an "honorable" escape, heading to Notre Dame for an M.B.A. He soon landed himself a prized job in sales at the giant Eli Lilly pharmaceutical plant—which in Indiana back then was the equivalent of going to work for Microsoft two decades later if you grew up in Silicon Valley. Chuck was quite happy—until his father, Bill, called up one day in 1973 and told him he wanted to buy up the old community bank, First National, in the little town of Valparaiso. Would Chuck come in with him?
SF Chronicle: Mortgage defaults hit record in state, Bay Area
In an ominous sign that foreclosures may soon surge, the number of mortgage default notices in California and the Bay Area rose to record levels in the first quarter of 2009, according to a report from a real estate information service.