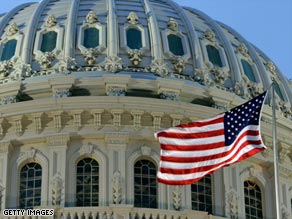 Some congressional Democrats are calling for an investigation into controversial CIA interrogation techniques.
WASHINGTON (CNN) - Who knew what, and when?
Those questions, focused on recently released Bush-era CIA memos detailing "enhanced interrogations" of suspected al Qaeda members - are now being posed inside the Beltway, as calls by Democrats for an independent investigation into torture allegations have become louder.
House Minority Leader John Boehner said Thursday that the release of what he described as the "torture" memos is politically motivated.
"Last week, they [Obama administration] released these memos outlining torture techniques. That was clearly a political decision and ignored the advice of their Director of National Intelligence [Dennis Blair] and their CIA director [Leon Panetta]," Boehner said.
The Ohio Republican pointed out that he saw a partial list of the number of members of the House and Senate, Democrats and Republicans "who were briefed on these interrogation methods and not a word was raised at the time, not one word."
Rep. Peter Hoekstra, R-Michigan, also blasted concerns being raised by Democrats.
"Only now that we have a new administration are people coming out who were aware of these programs saying wait a minute, these were terrible programs. In reality, two, three years ago, they signed off on it, they voted for legislation that funded these programs, and now all of a sudden these are terrible practices," he said.
But when asked whether or not she raised objections to the interrogation measures at the time, House Speaker Nancy Pelosi - a then-ranking member of the House Intelligence Committee - vehemently said "we were not, I repeat, we were not told that waterboarding or other enhanced methods were used."