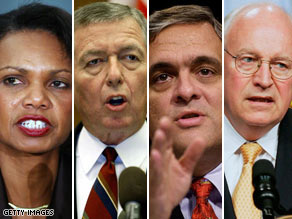 Join the conversation on Jack's blog.
The torture debate continues to heat up in Washington; with President Obama and top Senate Democrats pushing back against the creation of an independent commission to investigate the Bush administration's approval of so-called enhanced interrogation techniques.
Some Democrats like House Speaker Nancy Pelosi have been calling for an independent panel — like the 9/11 commission — to look into waterboarding and other harsh techniques.
But the president says a special inquiry would take away time and energy from his policy agenda, and could end up being a distraction looking back on the Bush years. Senate Majority Leader Harry Reid backed the president, saying everyone should wait for the results of an investigation by the Senate Intelligence Committee due out late this year.
Yet it's unclear how much of that panel's findings will ever be made public, since this is an investigation dealing mostly with classified information.
To read more and contribute to the Cafferty File discussion click here