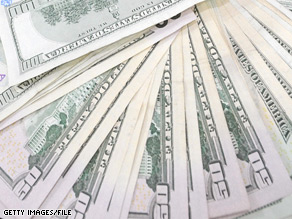 In his 14th week in office, Obama directed his cabinet to cut $100 million in spending over the next few months in a gesture aimed at showing concern about the deficit.
NEW YORK (CNNMoney.com) – After nearly 100 days in office, the Obama administration's campaign to lift the economy out of its deepest funk since the 1930s showed no signs of slowing down.
In his 14th week in office, Obama directed his cabinet to cut $100 million in spending over the next few months in a gesture aimed at showing concern about the deficit. He met with credit card companies to press for new consumer protections. And he touted plans to make student loans more affordable.
Next week, the president will mark his first 100 days in office with a prime-time press conference on Wednesday. It will be his third such press conference.
Meanwhile, the administration's efforts to keep the nation's auto industry alive could hit a major roadblock next week.
Troubled automaker Chrysler LLC, which has received billions of dollars in federal loans, could face bankruptcy if it fails to complete a deal with Italian carmaker Fiat by Thursday. Chrysler has struggled to get concessions from its creditors and labor unions.
Looking ahead, the administration will release the results of the "stress tests" it conducted on 19 major banks as part of its plan to stabilize the financial system. The results are tentatively scheduled to be made public on May 4.
Obama told his Cabinet on Monday to come up with ways to collectively cut $100 million from their agencies' budgets.
He also said his administration will propose eliminating more than 100 federal programs in the next few weeks. The money saved would be put toward his proposed initiatives in health care, education and energy, Obama said.
Those savings would come on top of more than the roughly $92 million in annual savings over the next five years and the nearly $24 million in one-time savings that agencies have already identified.
The cuts were seen as largely a symbolic gesture. Indeed, the $100 million in cuts are equivalent to 0.003% of the federal budget, and 0.006% of this year's estimated budget deficit.
Obama acknowledged that the amount is relatively small. But he said the cuts set the tone for future cuts, which will ultimately "make an extraordinary difference."
On Thursday, Obama met with more than a dozen executives of credit card-issuing companies to press his case for new consumer protections.
The meeting came a day after credit card legislation opposed by the financial services industry moved forward on Capitol Hill.
The House bill would, among other things, ban "arbitrary" interest rate increases, prohibit excessive fees and order more disclosure. It could go to the full House for a vote as soon as next week.
"Credit cards are an important convenience and a major source of unsecured debt for consumers," said Obama. "We want to preserve the credit card market, but we also want to do so in a way that eliminates abuses and problems that a lot of people are familiar with."
The president on Friday touted his plans to make higher education more affordable.
Obama said the tax credits and federal student loan programs he has established and proposed "amount to the most significant efforts to open the doors of college to middle-class Americans since the GI Bill."
He also called for an end to the Federal Family Education Loans program. Under this program, private lenders "act as middlemen" and are shielded from default risk by taxpayer subsides, Obama said.